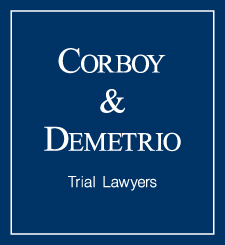 Quite simply, this driver should not have been behind the wheel of this truck.
Chicago, IL (PRWEB) June 29, 2011
The Chicago law firm of Corboy & Demetrio and through its co-counsel, the Reno law firm of Bradley, Drendel & Jeanney, has filed the first lawsuit on behalf of a victim in Friday's Amtrak crash 70 miles east of Reno, Nevada that killed six people and injured several others and filed an emergency motion for protective order in the case to preserve potential evidence.
The lawsuit, which was brought in Washoe County, Nevada, alleges that truck driver Laurence R. Valli and John Davis Trucking Company were negligent in disregarding lowered crossing gates and signals and crashing into the 4th car of the Amtrak train.
The law firms are seeking an emergency order of protection from a Washoe county judge requiring that all video, audio, electronic data, and physical evidence be preserved and protected for inspection by the lawyers and experts. According to Tom Demetrio, founding partner of Corboy & Demetrio, "Representatives of the trucking company, Amtrak, and the federal government have had access to this evidence since the tragedy happened on Friday. Nobody has been involved on behalf of the victims of this crash. Now we can be involved to protect the rights of those injured and the families of those killed."
This lawsuit was filed on behalf of victim Alexandra Curtis, 38, of Evanston, Illinois, who was injured in the fiery train crash. Curtis was an on-duty Amtrak train attendant at the time the truck hit the train.
According to Corboy & Demetrio partner Dan Kotin, "Ms. Curtis was working in the passenger coach cars when the impact occurred. Despite being injured, she spent the next half hour helping to evacuate passengers and crew from the smoke-filled train."
According to MSNBC, Amtrak's California Zephyr was en route from Chicago to Emeryville, Calif., with 204 passengers and 14 crew members on board when the accident happened Friday afternoon. According to Bill Bradley of Bradley Drendel & Jeanney, "Early investigation reveals that both Valli and the trucking company have been cited more than a dozen times by various governmental authorities for safety violations over the past 3 years. This was a tragedy waiting to happen."
Dan Kotin added, "Quite simply, this driver should not have been behind the wheel of this truck."
Case information:
Case#CV11-01904; Curtis v. Lawrence R. Valli and John Davis Trucking Company; Filed in state court in Washoe County, Nevada.
About Corboy & Demetrio
Corboy & Demetrio is one of the nation's premier law firms. It represents individuals and their families in serious personal injury and wrongful death cases and is renowned for its achievements in the courtroom and for its contributions to the community. The rights and concerns of its clients are at the core of Corboy & Demetrio's practice. That commitment, dedication, compassion and relentless drive has resulted in exceptional service and exceptional results for its clients. The firm has acquired more than $3 billion in settlements and verdicts and has attained almost 600 settlements and verdicts in excess of $1 million. To contact Tom Demetrio, Dan Kotin or any of the firm's attorneys, call 312-346-3191(24/7), and for more information about the Chicago personal injury firm, log onto corboydemetrio.com.
Media Contact:
Helen Lucaitis, Communications Director ,Corboy & Demetrio, P.C.
33 N. Dearborn Street, 21st floor, Chicago, IL 60602
Phone: 312-346-3191 or 312-550-2077 (cell)
Email: hhl(at)corboydemetrio(dot)com
###