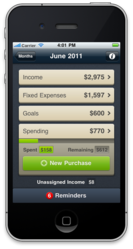 An innovative goals feature provides motivation
Edmonton, Alberta (PRWEB) June 29, 2011
There are plenty of apps, books and websites to help people save their money, but few concentrate on what drives people to save. This is what Fission Media has done with their latest iPhone app. Back in Black is designed to help people live within their means, save for their goals and pay down their debt. The comprehensive mobile budgeting tool includes an innovative goals feature designed specifically to keep users motivated.
CEO and Creative Director of Fission Media, Blaine Bertsch, says the company looked at existing applications and found them either confusing, lacking, too invasive or simply unused. "Budgeting is difficult to keep up over the long haul. Our initial discussions all revolved around motivation… what can keep people using the app day after day", Blaine says.
The goals feature in Back in Black encourages people to manage their budgets month after month by setting out clear financial goals, complete with images of what they hope to achieve. The app then provides a comprehensive toolbox for getting users on financial track and keeping them there. It makes it easy to enter available income, set up fixed expenses, track spending and realize financial goals.
Based on the popular 'envelope' method of budgeting, dollar amounts are dedicated to various categories for the month. The application then tracks whether the user is nearing the limits in each category, whether they are succeeding in saving money towards their goals, or sinking into the red. As President, Tom Dodd says, "It's really a better app for budgeting, a better mousetrap."
Back in Black was created by Fission Media, one of Western Canada's top mobile software development companies. Building on the success of the AMA Learner's Licence Practice Exam app and Santa GPS app, the company is proud to announce the creation of an app that is designed to better define, enrich and improve people's lives.
Built for the iPhone, iPod Touch and compatible with the iPad, Back in Black is available in the App Store on Thursday June 30, 2011.
###