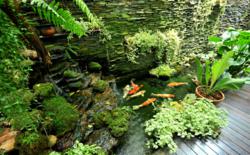 (PRWEB) June 29, 2011
The Aquaponics 4 You is essentially the controlled establishment of a natural, mutually beneficial ecosystem between fish and plants. As it concerns growing plants, it is the most efficient hybrid of aqua culture and hydroponics. The former method involves "cultivating" or raising fish where the latter incorporates water into the process of growing plants. Merging the two is a matter of connecting fish tank water to a hydroponics system.
Combining these methods with aquaponics is mutually beneficial for both the fish and plants. Fish excrete vital minerals and ammonia that require the water that they swim in to be constantly filtered. Plants readily consume those very minerals.
Using aquaponics for plant cultivation offers a number of striking benefits in gardening, farming, and any other vein of horticultural work. First, a greatly increased density of plants per square foot or acre is achieved by this system. This is made possible by the freeing up of space that soil normally consumes in planting. With water that is nutritionally dense enough to feed scores of hungry plants, gardeners are able to fit many more plants where they wouldn't have been able to with soil or regular hydroponics.
The next major benefit of aquaponics is the speed. The plants in an aquaponics system are receiving a constant supply of nutrients directed at their roots. The result is that they grow bigger and faster.
Finally, there is freedom from pests and weeds, courtesy of the aquaponic growing system. With water instead of soil, the possibility of pests is completely eliminated, making aquaponics an even more self-sufficient system. Overall, there is less planting, weeding, tilling, and general maintenance.
Through a number of grateful testimonials, Aquaponics 4 You users revealed the program's true efficacy as a powerful information source. James wrote, "Many of my aquaponic plants had to suffer…because of my lack of experience on the topic." That is exactly what the "Aquaponics 4 You" system supplements; the knowledge of how to establish an aquaponics growing system correctly.
George's testimonial highlighted another pivotal benefit of the aquaponics growing system. "After many years of farming I fell upon health conditions that prevented me from being able to go to my farm anymore…I was so excited to learn that there was an option available to me…in my own home; without risking my health." With such a low maintenance system, as George attested, anyone can continue to foster their love of gardening from home.
Aside from the already lengthy list of benefits offered by Aquaponics 4 You, a generous promotion is now being offered for anyone who embarks on their career as an organic gardener with the program. Currently, whoever orders it will receive the books "Organic Gardening for Beginners," "Herbs for Health and Home," "A Guide to Flower Gardening," "Worm Farming," "Guide to Organic Cooking" and "Eating Healthy" for free. At the already discounted price of $37, MyReviewsNow has unveiled an impeccable, irrefutable deal.
Visit The Fun & Delight Implementation Of Aquaponics!
###