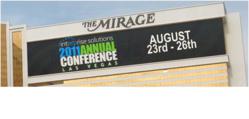 The internet continues to present business owners with new and exciting ways to expand their business…
Culver City, CA (PRWEB) June 30, 2011
Interprise Solutions, the market leader in integrated eCommerce/back office solutions for small to midsized businesses, is proud to announce that it will be holding its 2011 user conference at the beautiful Mirage Hotel and Casino and Las Vegas NV from August 23rd – 26th 2011.
This event promises to be an exciting one for companies that do business online, have wholesale or retail operations. At the conference Interprise will be showcasing its new Interprise Suite 6.0 product – the most integrated business solution on the marketplace. With Interprise Suite 6.0 businesses will be able to operate their businesses more efficiently than ever before as all of the eCommerce, Back Office, Warehousing, Shipping and Retail operations are brought together under a single integrated solution.
"This will be our biggest and most important conference ever…" says Gary Harrison, Interprise Solutions VP of Operations "…not only do we have our new Interprise 6.0 release but we have our new SilverTouch platform which was built from the ground up to power the next generation of touch Screen applications".
In addition to the current slate of Interprise Products, Interprise will also be announcing some new and upcoming features and products at the conference. "The internet continues to present business owners with new and exciting ways to expand their business…" says Yossi Zekri the President of Interprise Solutions "…our product line is designed to take advantage of these changes to give our customers the competitive edge."
Interprise Solutions will be formally unveiling its new "Interprise Cloud" program which will be the first, affordable "Cloud 2.0" integrated business solution option for small to midsized businesses. Unlike a dead-end multi-tenanted solution, the Interprise Cloud offers a true single tenanted solution in a safe, virtualized environment. As a single tenanted solution, companies are free to customize the solution as they evolve and grow unlike a multi-tenanted solution that is far less customizable.
The four day conference is only $1,295. An early registration promotional price of $995 per participant is available through August 8th 2011. More details can be found on our website at http://www.interprisesolutions.com or by calling our sales team at 310-734-4290.
###