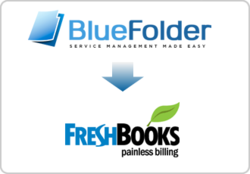 Integrating BlueFolder's field service management with FreshBooks invoicing will make many small businesses smile today. They'll waste less time and get paid that much faster.
Colorado Springs, CO (PRWEB) June 29, 2011
BlueFolder, Inc., the leader in Field Service Management solutions for small and medium-sized service organizations, and itDuzzit, a cloud integration platform that offers pre-built integration solutions, announce the integration of the BlueFolder SaaS-based solution with the FreshBooks invoicing solution.
"FreshBooks is the leader in online billing and invoicing," said Marc Fey, CEO of BlueFolder. "We are excited to be able to provide field service management companies with a complete solution for managing their service operations and billings in a seamless manner. Together, FreshBooks and BlueFolder provide a very powerful platform to the business owners, enabling them to reach greater levels of efficiency and improving cash flow."
The combined solution, immediately available at http://www.bluefolder.com/freshbooks includes the following functionality:

Generate FreshBooks invoices with BlueFolder labor, material, and expenses.
Create one invoice per service request, or group several into a single invoice per customer.
Synchronize invoices as-needed or schedule it to run automatically.
Automatically create customer records in FreshBooks.
Update BlueFolder service requests with FreshBooks invoice number, date, and link.
Update BlueFolder payment status automatically when the FreshBooks invoice is paid.
Send labor to FreshBooks time entries.
Steve Mendoza, co-founder of itDuzzit, stated, "We love to put best-in-class applications together to create greater value for organizations. By providing an affordable platform for application integration, itDuzzit allows businesses to use cloud applications together, seamlessly. With our BlueFolder FreshBooks integration solution, BlueFolder users can now use FreshBooks to manage all of their billing online without spending hours each month manually synchronizing data between the two systems."
"Small businesses want two things, which are to get on with their work and then get paid for it," said Sunir Shah, Chief Handshaker and head of the platform at FreshBooks. "Integrating BlueFolder's field service management with FreshBooks invoicing will make many small businesses smile today. They'll waste less time and get paid that much faster."
About BlueFolder
BlueFolder is a leading provider of Field Service Management solutions. The company's award-winning application delivers a simple and accessible web-based solution for businesses to manage their service teams, customer support, work orders, shared scheduling and billing. Companies of all sizes that use BlueFolder achieve an immediate return on investment by significantly increasing efficiency and reducing operational costs. As a result, users achieve sustainable competitive advantages while delivering a superior customer experience. BlueFolder offers multiple subscription levels, priced on a monthly basis, and does not require an annual commitment. BlueFolder is a privately held company headquartered in Colorado Springs, Colorado. For more information, visit BlueFolder's website at http://www.BlueFolder.com or call 866.253.2583.
About itDuzzit
itDuzzit is a cloud integration platform that offers pre-built connectors and integration solutions for dozens of popular cloud applications. Small and medium-sized businesses use itDuzzit to orchestrate cross-application business processes, eliminate redundant data entry, synchronize data, and send notifications using, email, SMS text, or status updates. itDuzzit's unique platform allows non-developers to create custom integration solutions in minutes using a no-coding, drag-and-drop "duzzit" editor. Solutions can be deployed as a web form, a widget, an API, an email drop box, or a scheduled process. itDuzzit is owned and operated by Itrios LLC and is based in Chicago, IL. For more information or to try itDuzzit for free, visit http://www.itDuzzit.com.
About FreshBooks
FreshBooks.com is planet Earth's leading online invoicing and bookkeeping service for small businesses, freelancers and service based professionals. Since 2004, FreshBooks.com has helped over 3 million people experience painless billing. Dedicated to designing extraordinary customer experiences, FreshBooks.com helps people focus on what they love to do, instead of their paperwork. Get a free account at http://www.freshbooks.com.
###