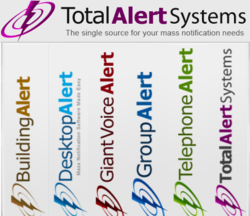 Total Alert Systems is a god send for organizations seeking a secure, proven and affordable one-stop mass notification solution.
Washington D.C. (PRWEB) June 29, 2011
Total Alert Systems Inc., a world class provider of Secure Mass Notification Systems (MNS) today announced it has formed an alliance with industry leading mass notification technology companies to deliver the industries most formidable one-stop mass notification solution.
By way of the union Total Alert Systems now provides single sign-on multi-modal capabilities delivering alerts through in-place networks for desktop computers, digital displays and kiosks, land-line and cell phones, text messaging, beepers, public address systems, social media as well as local and national alerting systems. Multimedia alerts, bulletins, reminders, and more are easily and quickly prepared and published across all modalities instantly. Simple one button activation provides enterprise-wide mass notification.
The Total Alert System has been designed to integrate Cloud Based Social Media, computers (pop-ups or email), mobile phones, PA systems, LCD/Digital Signage, VoIP phone systems, home phones, web pages and much more. Integration with these devices enables Total Alert Systems to provide organizations with the ability to quickly communicate to their community on issues such as Response Team Activation, Campus Lock-downs, Weather advisories and traffic alerts, Recurring Fire Drills and Generator Tests, Safety Alerts and Exercises, Training Notifications, Help Desk Alerts (System Outages), Daily Bulletins, Policy and procedure reminders, Community events and more.
"The concatenation of these industry leading alert technologies enables Total Alert Systems to truly deliver a secure, reliable and most importantly, affordable one stop mass notification solution. Nobody gets alerted when a system is not procured and used. Until now, the notion of a one-click alerting solution to reach all end-points with instant actionable intelligence was unobtainable unless the customer dealt with several vendors resulting in exorbitant/prohibitive license and support costs . At the end of the day it is all about interoperability. Total Alert Systems does the alerting job securely, reliably and efficiently while lowering the cost to the customer. Our latest implementation of the Total Alert System is now in progress at The United States Military Academy at West Point and The United States Army at Fort Hood", said Howard Ryan, CEO Total Alert Systems Inc.
About Total Alert Systems, Inc.™
Worldwide U.S. Military organizations such as The United States National Guard, The United States Air Force Academy, The United States Military Academy at West Point, Multi-National Forces in IRAQ, The U.S. Air Force, and The U.S. Army now utilize the Total Alert System mass notification platforms daily for their organizations emergency communication requirements. Total Alert Systems can contact thousands of computer users at their desktop and require them to click to confirm receipt of the message flashed on their screen. Those not verified can then be listed on a report and/or sent as a "Target Package" to be automatically contacted by other means such as email, SMS, phone calls and other devices. Total Alert Systems is available for over numerous approved DoD portals such as GSA, NASA/SEWP or direct.
For more information on Total Alert Systems, please visit:
http://www.totalalertsystem.net
http://www.buildingalert.net
http://www.desktopalert.net
http://www.giantvoicealert.net
http://www.groupalert.net
http://www.telephonealert.net
###