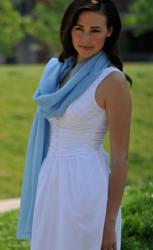 VeryPashmina.com aims to do for scarves what Zappos.com has done for shoes
Chicago, IL (PRWEB) June 29, 2011
VeryPashmina.com launched on June 1st 2011 with the goal of doing for scarves what Zappos.com has done for shoes. In other words, Very Pashmina's mission is to make it easy to shop for designer scarves at great prices online, with all purchases backed-up with the promise of excellent customer service.
In most major e-commerce sites scarves are buried deep within the menu structure, hidden somewhere in the accessories section between belts and hats. By focusing exclusively on pashminas and scarves Very Pashmina can ensure that searching for the right scarf or pashmina has never been simpler.
From the very first screen on the VeryPashmina.com web site the top-level navigation enables the customer to drill down by color to find the product that's right for them. Key styles are also prominently displayed enabling the consumer to choose between diamond weave pashminas, whisper weight pashminas and patterned shawls.
The category level structure offers an even greater number of ways the customer can refine their search, filtering by product, color, fabric, price, style, shape and designer. Rather than telling the customer how to search, this flexible structure allows each individual to navigate through the site by selecting the attributes that are important to them.
The focus on providing the customer with a simple but intuitive shopping experience continues on the product pages too. Multiple product photos show the shawls and their packaging from different angles as well as providing styling suggestions. As important as the navigational elements that are present on the site are the steps in the purchasing process that have been removed. Gone are unnecessary buttons like 'size', which are often present on larger generic sites, despite the fact that scarves typically come have only a single size option.
VeryPashmina.com is launching with product from two world-class manufacturers, Johnstons of Elgin and Ezma of India.
Johnstons have been producing beautiful hand-finished scarves since 1797. At VeryPashmina.com a huge selection of Johnston's scarves is available, including the entire selection of Johnstons cashmere scarves, with 15 plain color cashmere scarves and 15 cashmere tartan scarves in stock. Johnstons entire range of lamb's wool scarves is available too at a more economic price point, with a massive 22 plain colors and 24 tartan scarves to choose from. The store also contains a selection of Johnstons stylish seasonal scarves, including ombre stripped scarves, color blocked scarves and ethnic ikat scarf designs.
The Ezma mill in India produces some of the finest pashmina shawls available today, with a hand-feel to rival anything manufactured in Italy.
Very Pashmina stocks Ezma's "Soufflé" range, a selection of 20 teasingly transparent whisper weight shawls that are perfect for spring and summer. The 2-ply worsted spun fabric is constructed from a pure cashmere yarn. There are also 4 ombre variations with striking color gradients that make the shawls easy to match with a wide range of outfits. The "Soufflé" shawls are not only lightweight but also extremely portable. They come with an organza pouch, which makes them easy to carry in a purse without getting damaged, and an envelope box, which makes them ideal for gifting. Whilst the tassels on some shawls limit their use on formal occasions, the eyelash edging on Ezma's "Soufflé" shawls mean they can be worn to upscale events as well as casually.
Hand-crafted into an elegant diamond weave using a pure cashmere yarn, the "Palette" range has thicker fabric and is available in 20 different colors. The shawl's warm yet light weight construction makes it the ideal fall / winter accessory. It comes with an organza travel wrap to protect it when you're on the go, and a designer box, which will come in handy whether you're storing your own shawl or gifting it to a friend.
In addition to these ranges, VeryPashmina.com also stock; "Elegancia," a range of patterned shawls constructed from an ultrafine 2ply worsted spun cashmere yarn into unique herringbone and checkered weaves; "Reverso," unique two-tone reversible shawls, with color differences ranging from contrasting fuschia and orange to subtle but complementary mocha and chocolate; and "Imperiale," a range of super ultrafine shawls in classic colors, constructed from cashmere originating from Tibet and Alashan.
About Very Pashmina, LLC
Very Pashmina, LLC is a pure play e-commerce company founded in 2010 and based in Chicago Illinois focusing on providing cashmere scarves, pashminas, shawls and wraps to women the world over. Very Pashmina is run by Matthew Oldham, a graduate of the Kellogg Northwestern School of Management with over 15 years experience in analytical marketing in major blue chip organizations.
For more information contact:
Matthew Oldham
Telephone: 847.668.1403
http://www.verypashmina.com
###