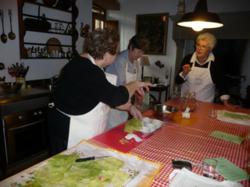 I loved every part of our trip to Tuscany and I would not have changed anything about it.
Tucson, AZ (PRWEB) June 30, 2011
Jan Acorn, owner of Gateway Destinations, will host an 8-day Chianti Cooking and Tuscany Spa Retreat ending the week with a guided tour of beautiful Florence, Italy. This women-only luxury tour emphasizes cooking local cuisine with the Tuscan Mammas of Tutti a Tavola cooking school and discovering the history, beauty and serenity of Tuscany.
Guests will be transferred to the Chianti region where they will be welcomed by the owner of Podere Ciona Vineyard with a sampling of their delicious wines. This charming vineyard estate will serve as a relaxing base for the next three nights. Evenings will be spent learning to prepare family recipes to enjoy over relaxing hours of dining pleasure. Days will be full of exploring Siena and small Tuscan villages including wine tasting, a market visit, olive oil tastings, a castle tour and much more!
After Chianti, this unique tour will continue to the southern Tuscany countryside to relax at the tranquil and luxurious Adler Termae Spa Resort. This 5-star spa resort allows clients to unwind and enjoy an underground salt bath, indoor and outdoor thermal pools, exercise classes, as well as herbal, salt or Finnish steam saunas! Additional sightseeing to explore the surrounding countryside is included during the day.
"I loved every part of our trip to Tuscany and I would not have changed anything about it." said Susie of Tucson, Arizona. "Our women's tour was filled with a tremendous variety of activities to appeal to everyone, but I especially enjoyed cooking with the Tuscan Mamas. Our guides were friendly and knowledgeable and I appreciated how Paolo shared his family and home with us to introduce us to authentic country life. Our hotel rooms were great – I didn't want to leave Adler Spa! No details were overlooked and our journey went smoothly every step of the way."
This package is limited to 8 guests but requires only a minimum of 5 guests for a guaranteed departure. The cost is US $3950.00 (based on double occupancy) with a single supplement charge of US $600.00. The tour begins late September - early October 2011.
For further information about the Chianti Cooking and Tuscany Spa Retreat and other women-only tours, contact Jan Acorn with Gateway Destinations, 520-529-1242. You may also visit their website at http://www.gateway-destinations.com.
About Gateway Destinations
Gateway Destinations, LLC, an affiliate of Bon Voyage Travel, provides travel planning services for individuals, couples and small groups to Alaska, Hawaii and foreign destinations. In addition, Gateway creates custom small group tours (escorted or unescorted) and specializes in guided tours for women.
###