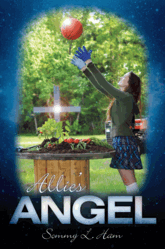 Magnolia, TX (PRWEB) June 30, 2011
Move over vampires. Werewolves step aside. Enter a new fantasy genre that is fun-filled and uplifting – the type of story that every parent would want their teen and preteen to read. In the new fiction Allie's Angel (published by WestBow Press) author Sommy L. Ham tells a fun-filled, heartwarming story about a girl named Allie and her struggle to find purpose and happiness. With a little help from a handsome angel, that is.
Allie's Angel tells the story of young 15-year-old Allie McCall, who lives in the fictional town of Friendly, in rural East Texas. Allie lives with her younger brother Ben and mother Laura – her father passed away from cancer five years earlier. With medical bills mounting, they had to sell their home in Pennsylvania and move to Texas. Allie, however, hides behind a wall of anger, blaming her father for dying and her mother for everything else. Many people can sympathize with Allie's inner turmoil. The loss of a loved one, especially a parent, can be devastating to the life of a child, and Allie is no exception.
In the story, Daniel is sent to Earth in a final attempt to rebuild an old community church. Daniel, who has a poor track record of interacting with any Earthly subject, has been given one last chance to redeem himself. Daniel knows another failed project will NOT be accepted, so it's a last-chance mission for Daniel to rebuild the oldest and most overlooked of all Texas churches. Allie is the final choice in Daniel's series of Earthly selections – the other people never cared enough to complete the task. But in Allie, Daniel recognizes a child's innocent heart that is well protected by an inner strength and a gritty, teenage tenacity, while fully aware she is disheartened and sad.
Allie slowly begins to form friendships with some of the eccentric, yet kindly townspeople. Allie's enthusiasm with the project becomes contagious, and before long, she inspires her neighbors to help, recruits investors, coordinates materials and even battles one of Satan's minions to get the job done.
Allie soon realizes that she does have more control over her decision making than she had ever thought possible. Allie's Angel is full of life lessons, aiming to give kids a better understanding of how the decisions they make now can positively – or negatively – impact their futures.
"I want middle and high school kids to know they do have some control over their lives and can make many of their own decisions," says Ham. "They sometimes feel helpless in the face of adversity, whether at home with their parents and families or at school with their teachers and studies, yet they don't realize how much of their decision-making they can manage on their own."
About the Author
Native Texan Sommy L. Ham has spent over 25 years in the writing business as publisher, editor, newspaper reporter, communications consultant and writing tutor, also publishing short stories in numerous magazines. She resides in Magnolia with her husband, four dogs and four cats. Her four grown children live close-by.
WestBow Press is a strategic self-publishing alliance of Thomas Nelson, the world's premier Christian publisher, and Author Solutions, Inc. (ASI)—the world leader in the fastest-growing segment of publishing. Through this partnership, authors benefit from the rich publishing heritage of Thomas Nelson and the speed-to-market advantages of the ASI self-publishing model. Titles published through WestBow Press will be evaluated for sales potential and considered for publication under the Thomas Nelson imprint. For more information, or to start publishing today, visit westbowpress.com or call 866-928-1240.
# # #