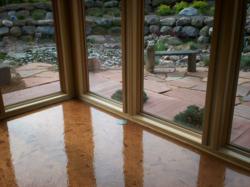 "The Pearlescent Metallic™ system is the perfect way to produce beautifully gleaming floors that are as strong as the metal it mimics," says Patrick Ilfrey, CEO of Citadel Polyurea Coatings®.
Minneapolis, MN (PRWEB) June 30, 2011
Citadel Polyurea Coatings® presents its Pearlescent Metallic™ Solution, which uses powder tints to produce marbleized floor coatings that contain pearlescent and iridescent accents, with gleaming finishes. As part of the Single Component Polyurea series, these lustrous floor coatings are the perfect solution for commercial applications, retail environments, or even residential use to set one's home apart from others.
At the core of the system is Citadel's® Polyurea-1 HD™, the workhorse of their series of Single Component Polyurea floor coatings, ensuring that it outlasts any other acrylic or acid stain system currently on the market. Like all Single Component Solutions, it has a virtually unlimited pot-life, allowing installers as much time as they wish to finish their projects with no waste. It is optically clear and very high gloss, giving it a better sheen and making Pearlescent Metallic's™ colours more vibrant than traditional floor coatings. Its self-leveling properties prevent it from forming roller lines, reducing labor costs. With 100% UV stability and extremely low VOCs, Polyurea-1 HD™ is ideal for making the Pearlescent Metallic™ system usable both indoors and out.
"The Pearlescent Metallic™ system is the perfect way to produce beautifully gleaming floors that are as strong as the metal it mimics," says Patrick Ilfrey, CEO of Citade Polyurea Coatingsl®.
The Pearlescent Metallic™ System offers several benefits, both to contractors and their customers, over epoxy and traditional polyurea. Some of its more notable benefits include:

Beautifully gleaming finishes
Unlimited pot life (Installers have more time to put down product and ensure consistency.)
No waste (It will not cure in the pan, allowing you to use everything you pour out.)
100 percent UV stability (It can be used both indoors and out.)
Optically clear
High gloss
Self-leveling
Fast cure: 4-8 hours walk-on time (Even with multiple product layers, return-to-service time is less than 24 hours.)
Year-round installations (Product can be installed in temperatures from zero to 120 degrees.)
Flexibility and Strength (100 percent more flexible and 20 times stronger than epoxy)
Extremely low VOCs (Minimal odor and environmental impact)
Polyurea-1 HD's™ unique composition allows it to retain polyurea's usual 4 to 8 hour cure rate and 24 hour return to service when applied, despite its unlimited pot-life. It also retains polyurea's elongation and flexibility, and remains a "green" product.
About Citadel Polyurea Coatings®
Citadel Polyurea Coatings®, a leading manufacturer of polyurea floor coatings, evolved over 40 years from a mid-size installation company into the leader in one-day polyurea floor applications. Headquartered in Minneapolis, MN, they began with foundation and horizontal pre-cast waterproofing, concrete restoration and polishing, as well as steel and bridge deck coatings. Their focus later shifted to engineering advanced polyurea floor coatings.
Citadel's® manufacturing division has been developing and applying polyurea coatings for over 25 years on a large variety of substrates. They are widely known for manufacturing and installing polyurea floor coatings everywhere from residential garages to commercial kitchens to warehouse facilities. The collective practice gives Citadel® over 65 years of experience in the coating industry.
For more information about Citadel® Polyurea Coatings or their new Single Component Polyurea Solutions, please visit http://www.CitadelFloors.com or contact Adam Moore at 1-866-765-4310.
Contact:
Adam Moore
Citadel Floor Finishing Systems
3001 103rd Lane NE
Blaine, MN 55449
Phone: 1-866-765-4310
Web: http://www.CitadelFloors.com
###