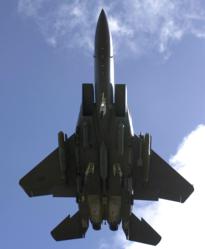 Sacramento, CA (PRWEB) June 29, 2011
Sports Travel and Tours, the leader in spectator sports travel, and one of the nation's premiere Airshows, the California Capital Airshow (CCA), today announced a partnership, which will deliver quality sports entertainment to their ever-expanding fan base.
This is a brand new option for customers providing an all-inclusive travel package to one of the largest and most exciting airshows in the country. This new offering builds on the popular travel packages that Sports Travel and Tours offers via organizations such as The National Baseball Hall of Fame and Museum and The Pro Football Hall of Fame. Other programs offered include NASCAR, U.S. Open, Stanley Cup, Kentucky Derby and more.
"We are excited to have this unique sporting event to make available to our clientele, as we've never offered this type of an event before," said Teresa Weybrew, Director of Sales for Sports Travel and Tours. "We have negotiated and designed two different levels of participation with access to areas of the show that the general public is not able to take advantage of."
"Sports fans that have never been to an Airshow are in for a rare treat. The CCA showcases five hours of non-stop thrills, chills and jaw-dropping excitement that will literally have fans on the edge of their seats," said Darcy Brewer, Executive Director of the California Capital Airshow. "Guests will see the 'best of the best' in regards to both military and civilian pilots and aircraft; literally there is so much to see and experience that you can't see it all in one day. With over 120 static aircraft and displays on the ground representing over nine decades of aviation history, sports fans will be mesmerized and entertained all weekend long."
The 2011 California Capital Airshow thunders into Sacramento on September 10th and 11th at Mather Airport. Packages offered include:

The Flight Line Experience: Featuring accommodations for three days and two nights at the elegant Four-Diamond Sacramento Marriott Rancho Cordova. This package includes two-day admission to the Airshow and special tented Flight Line Club access for viewing of the show, commemorative poster, official souvenir program and more. For additional details visit http://www.sportstravelandtours.com/cca or call 800-662-4424.
The VIP Experience: The VIP weekend features exclusive events not available to the general public such as the Performers Reception and Performers Gala. Once at the Airshow, enjoy access to the exclusive Governors Club, an escorted tour of the "Hot Zone" where you will see the world's most impressive and highly-secured military aircrafts, like the F-15 Strike Eagle, F-18 Super Hornet, rare and priceless warbirds, and so much more. In addition, you will have the opportunity to meet some of the world's most renowned pilots and performers, preferred parking and more. For additional details visit http://www.sportstravelandtours.com/cca or call 800-662-4424.
"Having these two major players cooperating at this level will help us continue to meet our fans' needs and interests. Customers have been asking for different sporting options to choose from and for the aviation enthusiast this will blow them away," said Jay Smith, President of Sports Travel and Tours. "We have yet to scratch the surface of what we can offer to fans around the world."
For more information or to schedule an interview, please contact Teresa Weybrew at teresa(at)sportstravelandtours(dot)com or call 800-662-4424. Additional press materials and photos can be found at http://www.sportstravelandtours.com/blog/?tag=press
The California Capital Airshow web site will be updated regularly with news, attraction information and more. Community members and attendees can also follow the Airshow on Facebook and Twitter (#calcapairshow).
High-resolution photos are available online at http://www.californiacapitalairshow.com/event-features/photo-gallery. To request press credentials for the event go to http://www.californiacapitalairshow.com/about-cca/media-access.
About California Capital Airshow
Established in 2004, the California Capital Airshow has become one of the largest and highly-respected airshows in the nation. As part of its community relations, the non-profit organization has awarded over 70 scholarships to deserving students from our region with an interest in science, technology, engineering, math, aviation, aerospace, and aeronautics. For more information about the California Capital Airshow, please visit http://www.californiacapitalairshow.com.
About the Sports Travel and Tours
Founded in 1996, Sports Travel and Tours is a national tour operator based in Massachusetts. The company features travel package for groups and individuals for all the major sporting events. Travelers can also create their own trip with the "Any Game…Any Time…Any Place!" program. Through its partnerships with the National Baseball Hall of Fame and Museum, Pro Football Hall of Fame, and AAA Clubs throughout the US and Canada, Sports Travel and Tours creates one of a kind, unique trips. For more information, please visit http://www.sportstravelandtours.com/cca
###