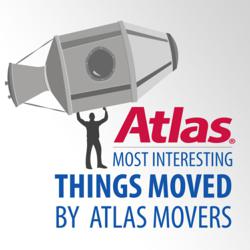 Evansville, IN (PRWEB) June 29, 2011
Americans traveling this summer might be surprised to learn about some of the items tucked away inside the red, white and blue Atlas Van Lines moving vans they see on the nation's roadways. As the country embarks on the busiest moving season of the year, Atlas asked its approximately 3,000 professional van operators (PVOs) to identify the most interesting belongings they've been asked to carefully pack and transport. The results are varied to say the least.
Atlas Van Lines' new infographic, "Most Interesting Things Moved by Atlas Movers," shows some of the unusual things Atlas van operators encounter in a day's work. The infographic provides a sampling of the unusual cargo, including:

The Apollo space capsule
An authentic Roy Rogers freight wagon
A vintage phone booth
A 1,000 pound coffee roaster
An animatronic King Kong
For more, visit: http://www.atlasvanlines.com/infographics/most-interesting-things-moved-by-atlas-movers/
The typical Atlas PVO drives between 50,000-75,000 miles annually, and has been driving with Atlas for more than 10 years. A large percentage of the drivers spend 31-40 weeks on the road moving customers, completing more than 100,000 interstate and cross-border (Canada) moves. In addition to the fun the PVOs have of loading and moving unusual cargo, many of the van operators report that the best part of being an Atlas van operator is having the opportunity to meet people from across the country, as well as the freedom of the open road.
About Atlas Van Lines
Atlas Van Lines is the largest subsidiary of Atlas World Group, an Evansville, Ind-based company. Atlas World Group companies employ nearly 700 people throughout North America. More than 500 Atlas interstate moving agents in the United States and Canada specialize in corporate relocation, household moving services and the specialized transportation of high-value items such as electronics, fine art, store fixtures and furniture. Visit http://www.atlasvanlines.com for more information on the company and Atlas agents.
###