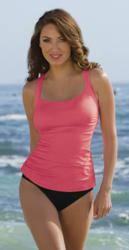 Look 10 lbs Lighter in 10 Seconds
Easton, PA (PRWEB) June 30, 2011
Miraclesuit Swimwear Tips are featured on the Cyberswim website. Each Miraclesuit is designed with Miratex, a proprietary lycra-spandex fabric, offering all over support and coverage without the discomfort of an inner lining. Miraclesuit boasts the "Look 10 lbs Lighter in 10 Seconds" promise, by transforming your body to be beach or pool-ready. Cyberswim Shape Solutions guide features how to choose products that best fit the needs of the buyer.

Cyberswim offer Miraclesuits that support for those "larger on top women", including swimsuits in D and DD cups. Suits recommended for ladies who are "bustier" are those with underwire bras, adjustable straps that can lift and support, halter-style tops and higher necklines to minimize jiggle. Ramp up sex appeal with a bust-flattering sweetheart neckline. These suits include the Rialto, Captiva, Regatta, and Oceanus, all available in a number of solid and print styles.
"Right" Around the Middle
Ladies who are looking to "hide their tummy" or create curves for what could be considered an apple-shaped body, Miraclesuits with waist cinching draw the eye upward and will disguise their belly in no time. These styles customize a look by offering visual "distractions" as well as firm support for those ladies concerned about their middle. Miraclesuit one-piece styles for the belly conscience include the Touche, Great Scott and Pandora. Miraclesuits with waist shirring and pleating fit the bill by adding curves where you want them by drawing the eye diagonally across the body, creating an hourglass shape. Look for Miraclesuits including styles in the Sanibel, Sonatina, Gandolf and Escape families. Miraclesuit separates offer tops in longer lengths that offer midsection help in the Utopia, Duzette, Karavelle and Blockbuster Tankini tops.
Ladies who are bottom heavy also have a distinct advantage with Miraclesuit swimwear, Suits and cover-ups that minimize backsides, hips and thighs for ladies with a more pronounced lower half, are available. Flirty full-coverage bottom separates include several skirted styles; sarong, pleated and even a foldover that allows tummy tanning! Maximum coverage for your hips and backsides. Contrary to popular belief, suits with a higher cut at the leg draw attention away from heavier thighs and hips. For one-piece suits, look at styles that draw attention away from your behind, by maximizing your shoulders and face. Bandeau-style suits in the Barcelona, Avanti, Flamenco and Camilla families will do the trick along with bust-enhancing patterns. Miraclesuit Ambassadress covers your thighs without making you look like a "granny". Offered in solids and patterns, with bust-accentuating features that focus on your face, rather than your lower half.
Vertically Challenged Ladies
Women who were not graced with supermodel height need not worry about finding a suit either. Miraclesuits in vertical patterns visually lengthen your torso, with engineered patterns that run head-to-toe. Suits in the Re-Mix and Kitty Galore patterns, for example, visually elongate by pulling the eye up from your legs through to your face, giving you the appearance of a taller stature you may naturally be lacking.
No matter what body-type you fall into, Miraclesuit has the perfect solution.
ABOUT CYBERSWIM- Our company was founded in 1999 based on the "dreaded" swimwear shopping experience. We are the largest direct sales retailers of Miraclesuits. Each Cyberswim purchase is backed by their 100 percent satisfaction guarantee, and strives to fulfill its mission to deliver superior service while offering products that give women the ability to feel good about themselves. "We really focus on what women of any size want our clothing to do: draw attention to our best features and downplay those parts that we feel less secure about," explains company president Lisa Stephen. Don't take our word for it, our customers say it best. We are sure that you will love your new Miraclesuit product.
For more information about Cyberswim and our products, please visit http://www.Cyberswim.com or email us at service(at)cyberswim(dot)com
###