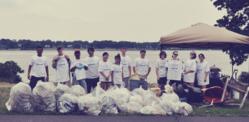 "For us at Eco Swim By Aqua Green to be there in person was an eye opener on how we all have to do our part for our environment to be sustainable for future generations," said Jim Post, Eco Swim By Aqua Green President
Bensalem, PA (PRWEB) June 30, 2011
On Saturday, environmental stewards from the sustainable swimwear company Eco Swim By Aqua Green and community volunteers joined together for a cleanup of the Delaware River at Neshaminy State Park. Neshaminy is a beautiful 339-acre park and is a popular destination for boating, swimming, hiking and picnicking for thousands of visitors each year.
Hardworking volunteers prevented 615 pounds of trash from flowing into the Delaware River and ultimately the Atlantic Ocean. Some of the trash collected included 565 plastic bottles, an array of Styrofoam pieces, tires, lawn chairs, construction debris and a liquid petroleum canister.
"For us at Eco Swim By Aqua Green to be there in person was an eye opener on how we all have to do our part for our environment to be sustainable for future generations. Last week at the Delaware River in Neshaminy State Park, we at Eco Swim By Aqua Green were literally doing our part to 'reduce our carbon footprint in the sand'", said Jim Post, Eco Swim By Aqua Green president.
Eco Swim By Aqua Green is just as committed to keeping the region's waterways and oceans clean as they are to creating high quality, eco-chic swimwear. So far this summer, they have removed over 3,000 pounds from the banks of the Delaware River. Throughout the summer, they will be hosting two more cleanups around the region.
Because families and sustainability are two of Eco Swim By Aqua Green's top priorities, their manufacturing is done within the US. Choosing to manufacture within the country reduces Eco Swim By Aqua Green's use of fossil fuels by 96.9%. All of the linings and outer shells of their fashionable bathing suits are made from recycled polyester or recycled cotton. The polyester is made from post consumer waste like recycled plastic bags and water bottles and the nylon is derived from recycled industrial carpeting, fishing nets, and other pre-consumer waste.
Eco Swim By Aqua Green is a sustainable innovator and their "green team" and Director of Sustainability with over 35 years of industry experience is constantly looking for innovative sustainable technologies. They have implemented initiatives as simple as a corporate recycling policy and a ban on Styrofoam to rethinking traditional fabrics and production techniques.
Their vision is to be the most sustainable swimwear manufacturer on the planet and every sunrise they strive harder to get there. The company has been ranked in the top 1% for sustainability by a leading global retailer (this ranking is out of their suppliers, not just apparel).
Eco Swim By Aqua Green's parent company is a 4th generation family business. Their dedication to a local work force, making swimsuits out of recycled materials, and conducting beach and waterway cleanups on an ongoing basis is helping protect our planet's environment for generations to come.
Eco Swim By Aqua Green products can be found in better specialty and department stores, as well as on select websites. For more information about Eco Swim By Aqua Green's environmental leadership, swimwear and events, visit http://www.ecoswim.com.
###