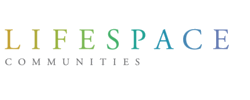 Fairview Village has a similar mission and commitment to the continuing care lifestyle, so this is a good fit for our organization.
-Scott Harrison, Lifespace President & CEO
Des Moines, IA (PRWEB) June 30, 2011
Lifespace Communities, a Des Moines-based not-for-profit senior living provider, announces the acquisition of Fairview Village, a Continuing Care Retirement Community (CCRC), located in Downers Grove, IL. The senior living community will become part of a system that includes 11 other Lifespace communities located in seven states.
Upon completion of the transaction on August 1, a new name will be unveiled for the community. Lifespace recognizes the rich history of Fairview Village and will honor it as the new name is announced to reflect on the community's new strength and new beginning as a Lifespace community.
"Following a detailed analysis, we determined that it just made sense within our strategic long-range plans of slow and steady growth to purchase Fairview Village," said Scott Harrison, Lifespace president & CEO. "Fairview Village has a similar mission and commitment to the continuing care lifestyle, so this is a good fit for our organization."
As new owners, Lifespace intends to embark on some initial capital investments to Fairview Village, which will include upgrades to the mechanical and electrical systems in the Health Center, and to provide for a complete renovation of that building.
Harrison and others from the Lifespace leadership team have met with residents and employees for an introduction to their organization and to ensure a smooth transition regarding ownership and operations.
"We intend to honor existing resident contracts, and any refund obligations will be paid according to those existing contracts," added Harrison. "Staff will transfer employment to Lifespace Communities, including our wage and benefits program."
Lifespace Communities also owns and operates another Chicagoland senior living community,
Beacon Hill, located in Lombard, which is about seven miles north of Fairview Village. Having two communities in such close proximity will allow for a unique synergy between the two in terms of operations. "With Fairview Village and Beacon Hill so close together, we've appointed Blaire Goldstein as senior executive director for both communities," noted Harrison.
ABOUT LIFESPACE COMMUNITIES
Founded in 1976, Lifespace Communities is a Des Moines, Iowa-based not-for-profit corporation that has grown to operate 11 Continuing Care Retirement Communities in seven states, serving more than 4,500 residents and employing 2,200 team members. Communities are located in Iowa, Minnesota, Kansas, Illinois, Nebraska, Pennsylvania and Florida. The organization is recognized by the LeadingAge Ziegler Top 100 as the seventh largest not-for-profit senior living provider system in the country.
###