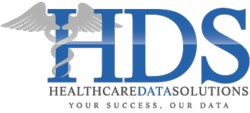 Foothill Ranch, CA (PRWEB) June 30, 2011
Healthcare Data Solutions (HDS) will be exhibiting at three major Life Science industry trade shows during the 3rd quarter.
HDS will exhibit at CBI's "5th Annual Tracking State Laws and Aggregate Spend" August 15-17 in Washington, D.C. This conference covers the latest legislative updates and addresses the specific issues companies are facing in the implementation and adaptation of their aggregate spend solutions. Healthcare Data Solutions will be showcasing their SpendTrackPRO Service. This service enables Pharmaceutical, Bio-Tech and Medical Device companies to track aggregate spend more accurately and efficiently using the industry leading HDS PrescriberPRO Database. For more on this product please visit the HDS site.
HDS will also be exhibiting at the NACDS "Pharmacy & Technology Conference" August 27-30 in Boston, MA. This annual event features decision-makers from more than 130 retail companies comprised of chain drug stores, supermarkets, and mass merchants who collectively represent over 80,000 retail outlets and more than $200 billion in annual sales for prescription drugs, OTC, and home healthcare. HDS will be featuring their Prescriber Validation Services and EmailPRO Prescriber outreach solutions for Pharmacies.
Finally, HDS will exhibit at The "PDMA Sharing Conference" September 25-28 in San Antonio, TX. This conference held each year gathers leading pharmaceutical executives to discuss the ever changing landscape of pharmaceutical marketing. HDS will be on hand to showcase their many solutions for pharmaceutical market, including sample validation and tracking aggregate spend solutions as well as customer master clean-up and email marketing solutions.
To make an appointment with HDS for any of these shows or for any questions please contact them directly.
About Healthcare Data Solutions
Healthcare Data Solutions is an original source data compilation company focused on building and distributing Physician, Pharmacy, Dentist, Nurse and Hospital databases. HDS provides healthcare data, physician validation programs, data processing, web services and new customer acquisition programs for leading healthcare firms. With over 2 million healthcare provider profiles and 1 million healthcare provider emails, HDS is the fastest growing healthcare data services company in the United States. For more information, visit HealthcareDataSolutions.com.
# # #