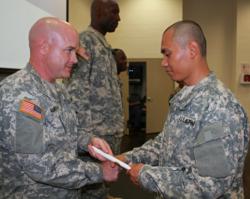 GED Plus Company Commander Chief Warrant Officer John Runyan places a GED diploma in the hands of Pvt. Saw Blut at Camp Robinson in North Little Rock, Ark., Tuesday, June 21, 2011
North Little Rock, Arkansas (PRWEB) June 30, 2011
As a former refugee desperately trying to become a free man, Pvt. Saw Blu celebrates his freedom this 4th of July as a solider in the United States National Guard. Each evening, Pvt. Saw Blut reads his bible and prays, thanking his God for life, freedom and asks for a chance to help others. Just three years ago, Blut was granted asylum in the United States through the United Nations High Commissioner on Refugees (UNHCR) and was resettled in Grand Rapids, Mich.
Blut, a member of the Karen ethnic group, fled Myanmar (Burma) to Malaysia to escape oppression and ethnic cleansing by the Burmese government. He lived in a refugee camp for two years until he registered with the UNHCR and paperwork was finalized.
"The soldiers would come into our villages, kill and terrorize our people and burn our houses," Blut said.
While his parents survived past attacks, Blut said some of his extended family members didn't make it. Coupled with the 2004 Indian Ocean tsunami that ravaged Myanmar and southeast Asia, Blut said he and his parents are lucky to be alive. Blut grew up in a rural, poor village near Pathein, the fourth largest city in Myanmar. Modern conveniences such as plumbing, electricity and paved roads are considered luxuries. Even before the tsunami, communication was limited. Blut said he speaks with his parents several times a year on a shared line, but disconnections and interference on the line make it difficult to keep in touch. That's where he said their common Christian faith ties them over the miles and separation. Blut said his parents miss him but are glad that he's safe and has an opportunity to prosper as an individual.
Over the past five years more than 15,000 Burmese refugees have found asylum in the United States and Blut said he is blessed to be one of them. He received his green card from the U.S. Citizen and Immigration Services in 2008, but now as a member of the Army National Guard, Blut is eligible to receive expedited citizenship. He said he looks forward to the day that he becomes a naturalized U.S. citizen.
Blut enlisted in the Michigan Army National Guard in the spring of 2011. He earned his GED through the National Guard GED Plus program in North Little Rock on June 21, 2011 and reported for basic training at Ft. Jackson, S.C. the following day. Upon graduation, he will attend the Wheeled Vehicle Mechanic School at Ft. Jackson to learn his military occupational skill. Blut said he plans on returning to Grand Rapids, Michigan to attend college and find a full time civilian job.
"America has given me so much," Blut said. "I just want to give back and serve my new country."
# # #