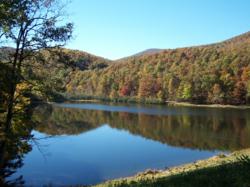 Stan & Deb have gained valuable insights to the activities available in the region.
Waynesboro, VA (PRWEB) June 30, 2011
Central Virginia and the area surrounding Staunton, Waynesboro, and Augusta County have so many different types of activities to offer the visitor. The owners of Cabin Creekwood have put together a guide of personal favorites entitled "Insider Secrets to Exploring Central Virginia." After many years of providing valuable information to guests of their vacation rental cabins, Stan and Deb have gained valuable insights to the activities available in the region. Here is a sampling of what can be found in "Insider Secrets."
The beautiful scenery of the Blue Ridge Mountains and the Shenandoah Valley attract many visitors, no matter what the season. The area can be explored in many ways. Some folks enjoy hiking or mountain biking along the many trails through the George Washington National Forest. Others prefer bicycling along the scenic roads. Still others find horseback to be their preferred method of exploration. Some bring jeeps to go four-wheeling on the rugged jeep trails. And many folks enjoy driving along the Blue Ridge Parkway or Skyline Drive, whether in a traditional vehicle or on a motorcycle.
There are vineyards, wineries and breweries to be explored, along with apple orchards and pumpkin patches. Many of these offer a pick-your-own experience which is great for kids and adults.
History buffs will find this area a gold mine of opportunity. The Pioneer Farm on the Blue Ridge Parkway and the American Frontier Culture Museum in Staunton both provide living history demonstrations, complete with guides in period dress. The Plumb House Museum in Waynesboro provides a look at life before, during, and after the Civil War, and hosts the annual Battle of Waynesboro re-enactment. Woodrow Wilson's Birthplace and Museum is located in Staunton. And of course, no visit to the area is complete without a stop at Thomas Jefferson's Monticello in Charlottesville.
Artists will enjoy both the permanent collection of world-renowned artist P. Buckley Moss at her museum in Waynesboro, and the Shenandoah Valley Art Center with its three galleries that change monthly.
Many visitors are looking to explore the underground, and caverns such as Luray, Grand, and Shenandoah provide that opportunity.
Golfers will find information about courses including Ingleside, Swannanoa, Wintergreen Resort, Stoney Creek, and Gypsy Hill Park.
Detailed information about all of these attractions can be found in the "Insider Secrets to Exploring Central Virginia." You can get your copy from http://www.cabincreekwood.com/download.htm.
About Cabin Creekwood
Stan & Deb Horst have been hosting visitors from all over the world in their Virginia Mountain Cabins since 1995. They pride themselves on being able to give accurate and helpful information about area activities. Find out more about their cabins at http://www.cabincreekwood.com.
###