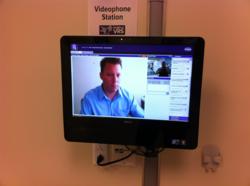 "The Purple VRS kiosk fits perfectly with ACC's objective to create an environment where all are welcome, all are included, and any barriers are eliminated to help our students attain their dreams." ACC Director of Special Population Steven Christopher
Rocklin, CA (PRWEB) June 29, 2011
Purple Communications™, Inc. (OTC: PRPL) ("Purple"), a leading provider of innovative communications solutions and services for people who are deaf or hard of hearing, has partnered with Austin Community College (ACC), providing on-campus Purple Video Relay Service (VRS) to deaf and hard-of-hearing faculty and students.
"We strive to make all of our programs and services accessible to all members of the community," explained ACC Director of Special Populations Steven Christopher. "The newly installed Purple VRS kiosk is a key piece in providing deaf and hard-of-hearing students, faculty and staff access to public communications technology that many hearing individuals take for granted."
In addition to offering Purple VRS on PCs, Macs, laptops, iPod touch and Android and iPhone 4 smartphones, Purple also develops VRS kiosks designed for larger-scale, public use, like college campuses, ensuring communication is always readily available.
"Purple believes communication is a right, not a luxury, and that's the primary reason why we do what we do – hearing people often take for granted how easy it is to make or receive a call, but for deaf and hard-of-hearing people like myself, it can be challenging," said Purple Director of Large Accounts Sam Costner. "This is an issue ACC is very sensitive of, and like Purple, believes its students, faculty and staff should ALL have equal access to communications. We are excited to be included in their overall mission to ensure just that."
With approximately 200 deaf and hard-of-hearing students, and 20 deaf and hard-of-hearing faculty and staff, Christopher said the response at ACC has been extremely positive.
"Because Purple's technology integrates with Internet, email, mobile, video and voice, they are ecstatic that they now can communicate freely with others as needed," he said, adding, "The Purple VRS kiosk fits perfectly with ACC's objective to create an environment where all are welcome, all are included, and any barriers are eliminated to help our students attain their goals and dreams."
To learn more about Purple, visit http://www.purple.us. To learn more about ACC, visit http://www.austincc.edu.
Social-Media Friendly Quotes
.@accdistrict "@PurpleComm #VRS fits perfectly with our objective to create an environment where all are welcome." #deaf
.@samcostner: "@PurpleComm believes communication is a right, not a luxury - so does @accdistrict." #VRS #deaf
.@PurpleComm's technology gives @accdistrict students, faculty & staff the opportunity to communicate freely. #VRS #deaf
Purple VRS works on the following smartphones and computers:
Android™
T-Mobile® Sidekick® 4G
HTC Thunderbolt™
Motorola Xoom™
Motorola Atrix™ 4G
Dell™ Streak™ 7
HTC EVO™
T-Mobile myTouch® 4G
Samsung™ Epic 4G
Samsung Galaxy Tab™
Nexus S from Google
Dell™ Streak 5
T-Mobile Samsung S 4G
Apple®
Mac®
iPhone® 4
iPod touch® (fourth generation)
iPad® 2
Windows-based PCs
Price and Availability
All Purple apps are free and available now at http://www.purple.us/trynow.
About Purple
Purple Communications, Inc. is a leading provider of on-site interpreting services, video relay and text relay services, and video remote interpreting, offering a wide array of options designed to meet the varied communication needs of its customers. Purple's vision is to enable fast and easy communication between people, inclusive of differences in abilities, languages or locations. For more information on the company or its services, visit http://www.purple.us. Purple, P3 and the Purple logo are registered trademarks of Purple Communications, Inc. Other names may be trademarks of their respective owners.
Safe Harbor
The statements contained in this news release that are not based on historical fact – including statements regarding the anticipated results of the transactions described in this press release – constitute "forward-looking statements" that are made in reliance upon the safe harbor provisions of the Private Securities Litigation Reform Act of 1995. Forward-looking statements may be identified by the use of forward-looking terminology such as "may," "will," "expect," "estimate," "anticipate," "continue," or similar terms, variations of such terms or the negative of those terms. Such forward-looking statements involve risks and uncertainties, including, but not limited to: (i) our ability to integrate the businesses and technologies we have acquired; (ii) our ability to respond to the rapid technological change of the wireless data industry and offer new services; (iii) our dependence on wireless carrier networks; (iv) our ability to respond to increased competition in the wireless data industry; (v) our ability to generate revenue growth; (vi) our ability to increase or maintain gross margins, profitability, liquidity and capital resources; and (vii) difficulties inherent in predicting the outcome of regulatory processes. Such risks and others are more fully described in the Risk Factors set forth in our filings with the Securities and Exchange Commission. Our actual results could differ materially from the results expressed in, or implied by, such forward-looking statements. Purple Communications™ is not obligated to update and does not undertake to update any of its forward-looking statements made in this press release. Each reference in this news release to "Purple," the "Company," or "We," or any variation thereof, is a reference to Purple Communications™, Inc. and its subsidiaries.
###