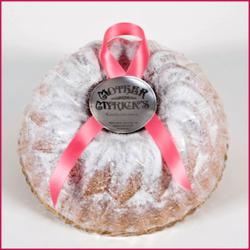 We set a goal last year, our first time doing this, to sell 500 Lemon Lulus in support of the Race for the Cure... We actually ended up selling 680!
Manchester Center, VT (PRWEB) June 30, 2011
Mother Myrick's Confectionery is again offering a very sweet July special on its spectacular Lemon Lulu cakes. Buy any Lemon Lulu - the sugary, tart, moist lemony pound cake drizzled with a lemon glaze and suitable any time of day - and they will donate $2.00 to the Susan G. Komen Race for the Cure to fund breast cancer research. It is a win-win offering! Lemon Lulu lovers (and they are legion!) get to enjoy their favorite treat while helping one of the most worthwhile causes on the planet.
"We set a goal last year, our first time doing this, to sell 500 Lemon Lulu cakes to support the Race for the Cure," says Jacki Baker, co-owner of Mother Myrick's Confectionery (the shop is named after a prominent mountain on the edge of Manchester, VT). "We actually ended up selling 680 cakes! Beyond that, many people matched our gift with their own $2.00 donation, so we gave over $1,600 to the Vermont-New Hampshire Affiliate of the Susan G. Komen race."
Hoping to shatter last year's record, Mother Myrick's will credit any Lulu shipped through the end of July. In addition, Lemon LuLu Cakes sold through their Manchester Vermont retail store are credited also.
Mother Myrick's has been making their bestselling Lemon Lulus, Buttercrunch and handcrafted chocolates for 35 years in Manchester, VT. Owner Jacki Baker and her husband Ron have a long history of working with and supporting non-profit organizations while having fun with their business. For instance, "Decorate a Cake for Mother's Day" gives children a wild time hand-decorating a cake for Mom with all proceeds going to charity.
Lemon Lulus sold during July for the Race for the Cure are handsomely packaged with the telltale pink "Race" ribbon. They are shipped all over the country to eager recipients, the most generous and strong-willed of whom actually give them away as gifts! Lemon Lulus are perfect by themselves or with your favorite topping of berries or ice cream, and they store well in the freezer, so you can always have one on hand.
To read more about Mother Myrick's Confectionery or to order a Lemon Lulu and support the Race for the Cure, visit mothermyricks.com. You will be so very glad you did. And be sure to support all those participating in the race on Saturday, July 23rd in beautiful Manchester Center, Vermont.
###