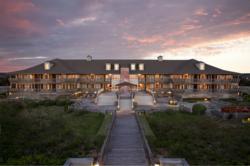 Duck, NC (PRWEB) June 30, 2011
In admiration and appreciation for military individuals and families who sacrifice, endure hardships and put their lives on the line in the name of freedom, wedding experts in the Outer Banks of North Carolina have joined forces with Operation Homefront in a "Salute to Love" by giving away the ultimate wedding experience to a military couple. In conjunction with The Sanderling Resort & Spa and OBXBrides.com, which provides online resources for wedding planning in the Outer Banks, Operation Homefront will award one lucky military couple a phenomenal beach wedding weekend with an official ceremony April 14, 2012 for up to 75 people at The Sanderling, located on the beautiful Outer Banks of North Carolina.
Open to military couples, "Salute to Love" is seeking nominations from an active duty military couple to be chosen for the ultimate beach ceremony and reception at The Sanderling Resort and Spa. In addition, the three day event includes a bachelor/bachelorette outing, rehearsal dinner and farewell brunch as well as the delectable cake and lush flowers, multiple photography sessions and officiant - everything needed for the perfect wedding weekend provided by OBXBrides.com wedding professionals.
"We are indebted to the men and women who serve our country and it is our honor to create an incredible wedding weekend for a deserving couple who have given so much unselfishly," said Wendy Coulson Murray, director of sales and marketing for The Sanderling Resort & Spa. "With Operation Homefront as a partner, we have tapped into OBXBrides.com's wealth of local resources to provide an incredible wedding experience for the ultimate 'Salute to Love.'"
Applications may be submitted for Salute to Love beginning Independence Day, July 4, 2011 and will close September 15, 2011. There must be at least one active member of the military as part of the nominated couple. Nominations will only be accepted directly from the couple. The top 10 finalists will be announced and posted on http://www.salutetolove.com for voting, which is open to the public, from October 1-31, 2011. The winner will be announced on Veteran's Day, November 11, 2011. For more information, military personnel can visit http://www.salutetolove.com or call 877.650.8512.
Operation Homefront provides emergency financial and other assistance to the families of our service members and wounded warriors. For more information, visit http://www.operationhomefront.net.
###