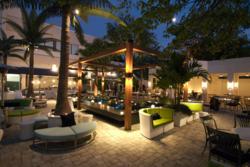 "Real Estate is such a hot topic that anyone interested in learning what is happening in the Long Island & New York market should attend this event"
Carle Place, NY (PRWEB) June 30, 2011
Leaders in New York Real Estate will enjoy the balmy fresh air this summer as they meet, mix and mingle at The Chateau's Take Your Business Outside Sunset Networking Event, a new series of vertical-industry after-work mixers to be held in the Garden Oasis at The Chateau in Carle Place, a Scotto Brothers property.
The series, designed to split the difference between social receptions and business get-togethers, offers a refreshing mix of informative speakers, open bar and lively entertainment in one of Long Island's most enjoyable outdoor venues. The series strategically connects senior people in vertical industry spaces, encouraging genuine business opportunities. A number of professional groups have signed on as sanctioning organizations, scheduling summer membership events within the industry networking taking place around them.
The event which is to take place on Wednesday July 13, 2011 will focus on New York Real Estate and feature some of the industries top people who will speak about current trends and issues here in our own back yard. Moderating the event is C.I.B.S. President David Panetta. Featured speakers include:

Sarah Lansdale: Commissioner, Suffolk County Planning Department
Robert AM Stern Architects: America's Leading Architect
Avalon Bay Communities: Can Smart Growth Happen on Long Island?
Bob Knakal of Massey Knakal Realty Services: Profit Trends in Commercial Real Estate
Eric Alexander of Vision Long Island: Mixed Use Is Already Here. We Need More!
Admission to the event is $30 and includes premium open bar, great food and entertainment while relaxing in the carribean like atmosphere of The Chateau.
Private cabanas are available and must be reserved in advance. For more information on attendance and exhibiting opportunities, contact Vicki Colacicco of Scotto Brothers 516.224.8184 or vickic(at)scottobrothers.com
ABOUT THE SCOTTO BROTHERS
A family tradition since 1961, the Scotto Brothers believe that success is not inherited but is rather earned through hard work and dedication.
To this day members of the Scotto family are involved in the every day operations at each of our catering facilities, restaurants and hotels. Members of the Scotto family work hard in seeing to it that your every need is tended to and that your expectations are not only met but exceeded.
Through the years their customer satisfaction has provided them with both the honor and the privilege in being of service to guests time and time again, for a wide array of special occasions. The Scotto Brothers understand the trust one puts in them in having them cater their affair. That is why it is paramount to provide only the best products and services. The Scotto Brothers realize that your success is a crucial part of our success; therefore, they set forth the highest standards in everything they do.
###