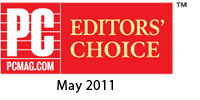 With a focus on business-critical needs for more efficiency, mobility, and security, eFax® has added advanced features like online signatures, searchable fax archives, large file sharing, and mobile apps for faxing in the field
Los Angeles, CA (PRWEB) June 30, 2011
j2 Global Communications, Inc. (NASDAQ: JCOM), a provider of cloud-based fax services since 1995, today announced that its eFax® service has achieved PC Magazine's highest editorial honor, the Editors' Choice award, in PC Magazine's review of eFax 2011.
The review describes eFax as having "a number of business-friendly features (digital signature, unlimited fax storage) that make it a must have," and further cites that "all-in-all, eFax is an excellent, well-rounded service for business customers who want to save on paper and ink." Editors also noted that eFax's standout feature is the ability to provide a digital signature which can be added to a document using either the Web interface or the free-to-download eFax Messenger®.
To read the PC Magazine review in its entirety, click here.
"Our mission with eFax begins with making it easy to send and receive faxes by email, but it goes far beyond that. With a focus on business-critical needs for more efficiency, mobility, and security, eFax® has added advanced features like online signatures, searchable fax archives, large file sharing, and mobile apps for faxing in the field," said Mike Pugh, vice president, marketing of j2 Global Communications, Inc. "We are pleased to be recognized by PC Magazine for our achievements and our leadership position in the marketplace."
j2 Global provides cloud services for business in six categories: eFax (online fax); eVoice® (virtual voice services); FuseMail® (hosted email); Campaigner® (email marketing); KeepItSafe™ (online backup); and Onebox® (unified communications). For more information on j2 Global's cloud services brands, visit http://www.j2.com.
About eFax
eFax is a brand and registered trademark of j2 Global Communications, Inc. (NASDAQ: JCOM) and is online at http://www.efax.com.
About j2 Global Communications
Founded in 1995, j2 Global Communications, Inc. provides outsourced, value-added messaging and communications services to individuals and businesses around the world. With offices in eight cities worldwide, j2 Global's network spans more than 4,300 cities in 49 countries on six continents. The Company's websites appear in numerous languages, including Dutch, French, German, Spanish, English and more. Payments are accepted in currencies that include the U.S. Dollar, British Pound, Canadian Dollar, Japanese Yen, Euro, Hong Kong Dollar and more. j2 Global provides live sales and customer service support in multiple languages, including English, Spanish, Dutch, German, French, Cantonese and more. j2 Global markets its services principally under the brands eFax®, MyFax®, eFax Corporate®, Onebox® , eVoice® , FuseMail®, Campaigner®, Electric Mail®, and KeepItSafe™ . As of December 31, 2010, j2 Global had achieved 15 consecutive fiscal years of revenue growth. For more information about j2 Global, please visit http://www.j2global.com.
# # #