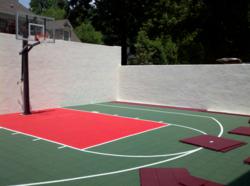 Court has a Fifteen Year warranty life expected of Twenty-five years.
Greensboro, NC (PRWEB) June 29, 2011
Advanced Recreation Solutions (ARS) is on the move again with another install of a VersaCourt System. Advanced Recreation Solutions is the Authorized Dealer and Distributor for North, South Carolina and some parts of the Southeast
John of Greensboro contacted Advanced Recreation Solutions, parent company ARS-Nolimits, Inc. about installing a VersaCourt Basketball Surface in his side yard at his residence. Once John had done his research he knew the choice was VersaCourt and ARS-Nolimits, Inc., quality product with a company that would stand behind their product for 15 years. Nothing in the industry will stand head to head with a VersaCourt system or Advanced Recreation Solutions.
"John wanted to create an environment in his side yard that his kids and their friends could be drawn to like a magnet and enjoy hanging out, getting exercise instead of being indoors playing video games and watching TV." John compared other companies and discovered the difference in quality in the other manufactures. VersaCourt is far superior to what the other companies manufactures. There is so much detail John discovered that goes into the VersaCourt system that makes them the industry leader.
John said we accomplished what we wanted, our kids and their friends use the side yard constantly, and our home is their hang out; it was money well spent. I would recommend Advanced Recreation Solutions and VersaCourt to anyone who is looking for a basketball surface that is superior to all other companies.
Advanced Recreation Solutions was glad to join the family of distributor for VersaCourt. VersaCourt is specifically made for basketball, tennis, or multi-game courts. It is perfect for new or concrete commercial or home tennis courts. Advanced Recreation Solutions offers indoor and outdoor court surface solutions. Our systems are custom designed and are built incorporating the most engineering technology to insure a comfortable and safe playing surface. With cutting edge product designs that reduce maintenance while enhancing surface features, our tile maximizes performance whether you're a professional or an amateur playing on a backyard basketball court or home tennis court.
We can incorporate tennis, basketball, shuffleboard courts and multi-game courts. Advanced Recreation Solutions also offers a wide variety of ancillary products including lighting, nets, ball containment fencing and Goalsetter Basketball Goal system for commercial or a backyard court.
VersaCourt has many medical benefits, multi-directional flex and stress relief, designed to provide shock-absorbing impact relief to protect knees, ankles and lower back from trauma. This feature makes VersaCourt performance surface superior to hardwood or concrete playing surfaces. VersaCourt is highly durable under the most demanding conditions, and virtually maintenance-free.
You can incorporate your favorite school or professional team logo; there are fifteen different color surface choices.
Advanced Recreation Solutions can easily retrofit over existing court surfaces, over old, high maintenance asphalt tennis surfaces; the VersaCourt will bring you a life of fifteen to twenty-five years. Stop spending those resources once and for all resurfacing those asphalt tennis court, convert today, the benefits are endless.
Visit http://www.advancedrecreationsolutions.com
###