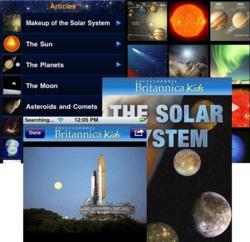 Our apps are ideal for summertime, when families turn to technology to keep kids happily occupied in the car or on the plane during long trips. The quizzes and other educational content are also great for lessening the summer vacation 'brain drain.'
Chicago, IL (PRWEB) June 30, 2011
Nine popular educational apps from Encyclopaedia Britannica Kids will be on sale tomorrow through July 10.
In honor of the July 8 final U.S. space shuttle launch, Britannica Kids: Solar System will be on sale for ninety-nine cents, down from its regular price of $4.99. Other Britannica Kids' apps will be reduced to $1.99 and can be used on the iPhone, iPad and iPod Touch.
"Our apps are ideal for summertime, when families turn to technology to keep kids happily occupied in the car or on the plane during long trips," said John Russell, who directs Britannica's mobile product development. "The quizzes and other educational content are also great for lessening the summer vacation 'brain drain.'"
The Britannica Kids app series includes engaging, high-quality programs in science, social studies, history and geography. In addition to reliable, fact-packed articles, they include a multitude of videos, pictures, games, puzzles and quizzes.
The apps have drawn praise across the board for their trustworthy coverage and multimedia fun. The Big App Show called them "outstanding" and "chock full of cool things to do."
Bestkidsapps.com referred to them as "lush," TheiPhoneMom.com called the Britannica Kids Volcanoes app "beautifully designed" and iPhone Life gave Britannica's Ancient Rome "5 stars."
Britannica Kids apps were developed in cooperation with Concentric Sky. Titles include Volcanoes, Ancient Egypt, Dinosaurs, Rainforests, Aztec Empire, Snakes, Ancient Rome and Knights & Castles. They're available from the Apple App Store.
A limited number of free download codes are available to reviewers and journalists. Images are available on iTunes.
About Encyclopaedia Britannica Kids
Encyclopaedia Britannica Kids publishes engaging, high-quality digital education products for students in elementary and middle school. They include Britannica Kids Online, kids.britannica.com, a research and homework portal, and a series of multimedia mobile apps on popular school topics ranging from the solar system to ancient Rome. Encyclopaedia Britannica Kids is a division of Encyclopaedia Britannica, Inc., and is located in Chicago.
###