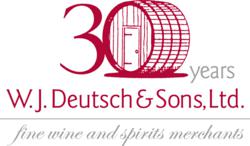 White Plains, NY (PRWEB) June 29, 2011
W.J. Deutsch & Sons, Ltd. (Deutsch), a leading wine importer and marketer of more than 25 award-winning wines and spirits from around the world, including [yellow tail], Girard and The Original MOONSHINE, announced today that it has formed a joint venture with Napa Valley Vintner Joseph Carr to become the exclusive marketing and sales agent for the Joseph Carr and Josh Cellars brands.
"With W.J. Deutsch & Sons, we've found the right partner to fuel the growth of our portfolio in the United States," said Joseph Carr, Founder, Joseph Carr wines. "They have an exceptional team, a proven track record for building brands in the US, and as a family business, we share the same values. Our wines couldn't be in better hands."
"Joseph Carr has built his brands through his own hard work and tenacity, and we look forward to bringing our company's considerable sales and marketing strength to bear to help Joe's brands reach their full potential," said Peter Deutsch, CEO of W.J. Deutsch & Sons. "My Dad and I built our business by partnering with other likeminded family companies that produce high-quality wine at a real value to the consumer, and Joseph Carr is an excellent example of this. We are thrilled with the relationship that we have built with Joe and his wife Deirdre and look forward to a long and prosperous partnership."
In line with Deutsch's strategy of partnering with family producers from important wine regions, the addition of the Joseph Carr and Josh Cellars brands enhances the already strong Deutsch footprint and further expands their offerings from California. The new brands add depth to their growing portfolio which was recently strengthened by the addition of brands from Vintage Wine Estates, announced in March.
"California wines are leading the category, accounting for more than 70 percent of all US wine sales, and they are growing twice as fast as the total wine category," said Tom Steffanci, President of W.J. Deutsch & Sons. "The addition of the Joseph Carr and Josh Cellars brands fills a gap in our portfolio and provides our distributors and sales people with wines that they can grow rapidly."
The new partnership brings a total of five new California SKUs to the Deutsch portfolio: Joseph Carr Napa Cabernet Sauvignon, Napa Merlot and Sonoma Coast Chardonnay; and Josh Cellars North Coast Vineyards Cabernet Sauvignon and Chardonnay. All items will be distributed in the US by Deutsch's distributor network beginning July 1, 2011, with transitions occurring over the subsequent 60 days depending on the state.
About W.J. Deutsch & Sons
W.J. Deutsch & Sons, Ltd. was founded in 1981 by Chairman Bill Deutsch to market quality wines produced by prestigious families from major wine regions of the world. In 2009 Deutsch announced the expansion of the award-winning company to include a separate Spirits Division, W.J. Deutsch Spirits LLC. Deutsch's wines and spirits are sold to the trade with well-planned marketing support and are offered to U.S. consumers at fair market prices. Today the company is renowned for its brand building prowess and its ability to meet the needs of the modern consumer. Bill's son Peter Deutsch is CEO; thus two generations of the Deutsch family work side by side in their continuous quest to build strong brands and relationships throughout the wine and spirit industry.
The W.J. Deutsch & Sons portfolio includes award-winning wines from Australia: [yellow tail], [yellow tail] The Reserve, [yellow tail] Bubbles; California: Girard Winery, Windsor Sonoma, Sonoma Coast Vineyards, Kunde Estate, Joseph Carr, Josh Cellars; France: Andre Lurton, Georges Duboeuf, Hob Nob Vineyards, Patch Block, Pierre Sparr, Sauvion et Fils, Vidal Fleury; Italy: Barone Fini, Castello di Monastero, Coldisole, Poggio alle Sughere, Lionello Marchesi, Villa Pozzi; New Zealand: The Crossings; Portugal: Quinta Do Vale Meao; Spain: Mar De Frades (Rias Baixas), Cruz de Alba (Ribera del Duero), Ramón Bilbao Vinos Y Vinedos (Rioja), and Volteo (Castilla); Chile: Llai Llai; Argentina: Ruta 22, and award-winning spirits from Landy Cognac (France), Luksusowa Vodka (Poland), The Original MOONSHINE (USA) and Villa Massa (Italy). http://www.wjdeutsch.com.
Media Contact:
Laura B. Peet, Director of Public Relations
W.J. Deutsch & Sons, Ltd.
914-251-3294
laura.peet(at)wjdeutsch.com
###