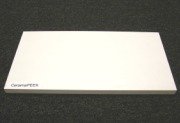 IC test socket material with improved hole stability and burr-free properties.
(PRWEB) June 29, 2011
CeramaPEEK® NC30 Test Socket Material is an advanced proprietary ceramic-filled PEEK compound created to meet the requirements for tight tolerance, high frequency IC chip socket test fixtures.
CeramaPEEK ® NC30 is the advanced version of Professional Plastics' ceramic-filled PEEK. This version is WHITE in COLOR and provides improved hole stability and cleanliness when compared to previously available grades. Precision holes drilled into CeramaPEEK® NC30 Test Socket Material are burr-free (when machined properly) and provide longer life than competing materials.
Another advantage of CeramaPEEK ® is that this is the first extruded, homogeneous ceramic-filled PEEK on the market. Due to advancements in production techniques, this product can be produced in large 24" x 48" (610mm x 1220mm) plates. Furthermore, it is more economical than competing injection-molded products and has a significantly lower defect rate.
Key Features of CeramaPEEK® NC30 Advanced Ceramic-Filled PEEK Include:
•Exceptional Dimensional Stability: low moisture absorption, low creep, high modulus, metal-like CLTE, low coefficient of hygroscopic expansion
•Machinable to Very Tight Tolerances: Low Burring, compatible with tight pitch and fine diameter holes
•Good Abrasion Resistance and Ductility: maintains tolerances after 100,000 chip insertions, good impact properties
•Very Stable Electrical Properties: low moisture absorption and intrinsically good electrical insulator
•Thermal Stability: Compatible with wide temperature range, maintains physicals with after heat aging
•Available in Large Plates: CeramaPEEK ® NC30 is available in large 24" x 24" (610mm x 610mm) plates.
•Economical: CeramaPEEK ® NC30 is more economical than competing injection-molded products.
Professional Plastics maintains 14 locations in the USA, plus a location in Singapore serving customers throughout Asia. USA Toll Free (888) 995-7767. Asia Customers Call +65 6266 6193
For more information, visit Professional Plastics Website.
###