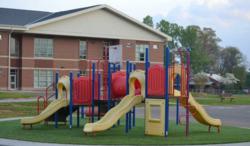 Synthetic Playground Grass Surfacing has a Future
Mooresville, NC (PRWEB) June 30, 2011
Advanced Recreation Solutions of Mooresville North Carolina is on the move, with growing demands of Playground Synthetic Grass Surfacing. "Tiger Play Grass" specifically designed for the demands associated with the playground environment. We are receiving more and more inquires and calls each and every day. The demand is increasing for many reasons; safety, environmentally safe, it is clean, teachers, parents and most of all kids love the real looking synthetic playing surface.
Imagine your playground perfectly manicured-soft, grassy and inviting, year round. Your playground will be the envy of your neighborhood and community...impossible? Not anymore we have the state-of-the-art of synthetic grass choices and solutions for every playground environment.
No longer will there be a need for mowing, watering or fertilizing with those harmful chemicals. The investment more than pays for itself over a very short period of time. Consider the cost of water, chemical and equipment required to maintain a natural surface. The hard work and time can now be spent doing more productive and important matters! After all, don't you, your family and friends deserve it?
Our synthetic grass is Hypo Allergenic, child and pet friendly. So, whether you are playing ball with your children, throwing Frisbee on your new waterless playground surface, "Tiger Play Grass" is designed for your every need,
Synthetic Grass has many functions and benefits, Playgrounds, Kennels, Veterinary Hospital, K9 Dog Pet Spas, Business Entrances, Sport Fields, Putting Greens, to Pool Surrounds, and even Tennis Courts, almost most anywhere you can imagine, "The Only Limit Is Your Imagination".
We will assist you in developing a practical and beautiful landscape design, reducing your maintenance and converting your lawn, playground, putting greens, tennis courts, sport fields into an investment that will save you tremendous resources in the future.
Remember you are not only making an investment, saving time, you are protecting your environment and providing a healthy, safe playing surface now and into the future for our children.
Visit: http://www.tigerplaygrass.com
###