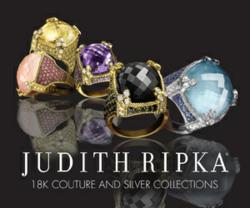 (PRWEB) June 30, 2011
Drawing inspiration from her experiences and surroundings,New York City-based Judith Ripka's earliest childhood memories are playing in her mother's jewelry box. She launched her first 18k gold collection in 1977 and her fine jewelry has continued to delight, entice and bedazzle ever since.
Ripka's fine jewelry designs suit every taste, from the truly traditional to the nouveau chic, the glamorous to the functional. Her finesse at combining fine jewelry elements is one reason behind her massive success and appeal.
"It's about striking the balance between the elegance of a classic woman with the fashion sense of today's modern woman," Ripka says on her website. Such a combination results in jewelry that is as fashionable today as it was 20 years ago – or will be 20 years in the future. Her vision of excellence, translated into gold, silver and precious gems, transcends all boundaries of style, age and time.
Ripka's astounding appeal is also due to her sheer passion for her art, which results in copious amounts of original designs every year. She personally designs an estimated 2,500 pieces of fine jewelry annually, with about 800 new styles produced and entering the market. Each piece receives Ripka's undivided attention and personal touch to ensure it as exceptional as the women who wear it.
"When a woman is wearing my jewelry," Ripka says, "I want her to feel as if she is wrapped in one of life's greatest luxuries." The topnotch fine jewelry designer easily achieves this goal by incorporating only the highest-quality metals and gems available.
Judith Ripka's fine jewelry is renown for its use of 18k celadon gold, a gold she created herself by mixing a secret alloy that results in a soft green gold color that compliments most skin tones. The silver and white gold pieces are gently coated with a fine layer of Rhodium, a derivative of platinum, that helps prevent scratching and tarnishing while retaining the fine jewelry's natural shine and luster.
The sparkling array of gemstones ranges from the radiant red African Ruby to the deep Yellow Beryl from Brazil. Ripka's fine jewelry contains only the finest diamonds, with brilliant, full-cut stones for maximum refraction and reflection that result in maximum brightness and fire. Ripka also encourages women to further personalize their fine jewelry selection by offering to customize nearly any piece of jewelry with any color available on the stone chart. Clients can opt to go green and bright with jade, tourmaline or peridot or add a dark and mysterious flair with hermitite, black onyx or a deep Indian sapphire.
Ripka has spent years perfecting her own custom stone cuts and faceting to best enhance the beauty of each gem in her collection. Other signature touches in her fine jewelry line include beading and rope twists that add interest, dimension and texture and the notable lobster claw closure that graces the front of several lines. Small, enchanting hearts are also often hidden inside a ring or on the edges of other fine jewelry pieces, while her signature heart motif graces the gallery back inside each piece, proving once again her exquisite attention to detail never wanes.
Her desire to make a difference never wanes, either. Ripka's dedication to myriad causes has earned her honors from prestigious organizations, she sits on several boards and steering committees, and the First Lady invited her to Washington in 1995 for a Women's Leadership Council forum on children's healthcare. Ripka aims to inspire through her art and she has created commemorative fine jewelry pieces for various organizations. Her charitable nature runs as deep as her talents, and MyReveiwsNow.net is proud of the newly formed affiliation.
###