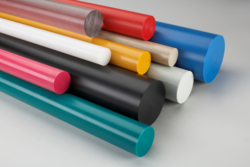 Biocompatible plastic shapes meeting USP Class VI and ISO 10993-5 are in stock now
Fullerton, CA (PRWEB) June 29, 2011
Professional Plastics, Inc. (Fullerton, CA) and Rochling Engineered Plastics, Inc.(Gastonia, NC) have signed a formal distribution agreement for Rochling's Life Science Grades of extruded plastic shapes. Under terms of the agreement, Professional Plastics will stock a full-range of products used for surgical instruments and trays, diagnostic equipment, orthopedic sizing trials and dental instruments. These products offer a wide range of features critical to the medical device market such as; Biocompatibility (USP Class VI and ISO 10993-5 Approved), FDA Approval, Lot and Batch traceability, and Resistance to sterilization (autoclaving). These materials are approved for Non-implant applications only.
Key products included in the arrangement include: Sustarin® C MG Acetal, Sustason PPSU MG (Radel R), SustaPEI MG (Ultem), SustaPEEK MG, SustaPSU MG (Polysulfone), SustaPPO MG (Noryl) and Polystone® P MG (Heat Stabilized Polypropylene).
Professional Plastics can provide stock shapes, or finished parts to customer design specifications. Typical parts made from these material include; surgical instruments and devices, endoscopic tools, surgical trays, dental instuments, hip and knee sizing trials, and moving components for gears, sliders and other parts in medical equipment.
Available with Complete Lot and Batch Traceability, Ultrasonic Testing, Certificate of Analysis for Resin, ISO 9001:2008 Certification and ISO 13485 (Medical Device Standard) Compliant.
For more information, contact Professional Plastics, Inc. at (888) 995-7767 or visit online at
http://www.professionalplastics.com
###