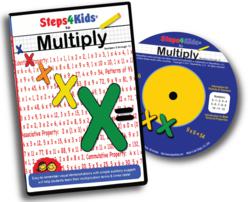 Promotes the importance of knowledge, encouraging educational aspiration and stimulating the mind to think about multiplication in different ways. (Adult Juror Comment - Kids First!)
San Diego, CA (PRWEB) June 30, 2011
Educators at school and home continuously search for math products that will help students not only memorize core foundational skills but also think about more complex concepts such as patterns and mathematical steps to help with progressive learning tasks. The Steps4Kids multiplication DVD recently selected as "DVD of the Year" by Creative Child Magazine provides a highly engaging visual and auditory format to help students learn their multiplication facts and properties using the numbers zero through twelve. Products are selected for awards based upon the reviews of early education professionals, parents and educators who rate products based upon the product's ability to nurture creativity and educate children. The Kids First! Coalition for Quality Children's Media just weeks earlier issued its 3 star "All Star" endorsement.
With approximately 80 minutes of instructional support, this multiplication DVD is one of the most comprehensive multiplication products available to both the educational and consumer markets. The Steps4Kids to Multiply (Numbers 0 through 12), teaches basic multiplication terms and properties, teaches how to answer equations both vertically and horizontally, introduces how to multiply double digit numbers by single digit numbers and includes practice tests at the end of each number track to reinforce rote memorization of the times table. The multiplication DVD also includes a special section for teachers with templates for interactive whiteboards, teaching tips and more.
Steps4Kids is a woman owned business started in 2005 by parents and professionals to create visual teaching DVDs for home and school use after seeing how studies and trials showed how children learn and retain information from visual media. The lead designer of the multiplication DVD is Lucile Hooton Lynch, an education advocate who has been twice recognized by a San Diego area education consortium consisting of 14 school districts for her work with students. A native Texan, Lynch moved to the San Diego a decade ago and began using her doctorate to help school districts and parents devise creative educational programs to support students.
The Steps4Kids multiplication DVD is the 4th award winning DVD created by Steps4Kids, LLC, since the Carlsbad, California company first began making commercial educational DVDs in 2007. All Steps4Kids products are made in the U.S.A. and retail for $19.99 - $24.99. Steps4Kids DVDs are for general, special education and home use.
###