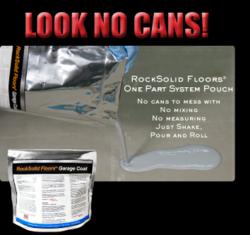 "The packages are safe, convenient, reliable, and precise. DIY garage floor coatings just got easier," says Patrick Ilfrey, CEO of RockSolid Floors.
Minneapolis, MN (PRWEB) June 30, 2011
RockSolid Floors® Polyurea Floor Coatings take the latest advancement in floor coating technology and make it easier to use and more environmentally friendly by cutting out the cans. The company's polyurea flooring systems now feature advanced pouch technology. Flexible pouch packaging replaces metal cans to offer users better product handling while creating less of an impact on the environment. The kits still feature the same polyurea floor coating formulas providing 20 times the durability of epoxy floor paints.
RockSolid's™ One Part products, such as their Grey Garage Coat™ or Diamond Coat™, come in resealable pouches, completely eliminating the risk of waste. Simply add any of their desired color shots directly into the pouch, shake it, pour the product into the pan and roll it out onto the floor.
Their two-part products' pouches are just as simple. The two parts are packaged in separate, pre-measured portions that are instantly mixed when the pouch is rolled up, thanks to RockSolid's™ burst pouch technology. Once it's rolled, it too is simply shaken, poured and rolled out.
"Our new pouches mean users have no cans to mess with and no measuring," says Patrick Ilfrey, CEO of RockSolid Floors. "DIY garage floor coatings just got easier. They are lighter and easier to handle, they save time on clean up, and there is less packaging waste affecting the environment. It's win-win."
In addition to their convenience, these pouches decrease RockSolid™ products' influence on the environment. They reduce product waste, allow for more efficient product storage than bulky metal cans, and they help to ensure quality preservation of the kit materials.
"At one tenth the packaging weight of a typical metal can, a case of flexible pouches uses 30% less volume than a case of cans," said Ilfrey. "The packages are safe, convenient, reliable, and precise. Just as important, they're better for the environment. Not only do they mean less waste makes it to landfills, but they also cut down on required warehouse space and fuel consumption in shipping. A single pallet of these flexible film pouches equals 50 pallets, or two and a half truckloads, of cans that have to be shipped."
The new, more environmentally friendly, packaging won't affect the quality of the RockSolid Floors Polyurea floor coating kits. They will still be 20 times more durable and 98% more flexible than epoxy, ensuring that it won't crack or peel. With its resistance to salt, oil, gas and other harsh chemicals, this is one of the toughest floor coatings on the planet. It's easy to maintain and will last a lifetime while still looking fantastic.
About RockSolid Floors®
RockSolid Floors® is an affiliate company of Citadel Polyurea Coatings®, launched in January 2008. Citadel Polyurea Coatings®, a leading manufacturer of polyurea floor coatings, evolved over 40 years from a mid-size installation company into the leader in one-day polyurea floor applications. Headquartered in Minneapolis, MN, they began with foundation and horizontal pre-cast waterproofing, concrete restoration and polishing, as well as steel and bridge deck coatings. Their focus later shifted to engineering advanced polyurea floor coatings.
Citadel Polyurea Coatings'® manufacturing division has been developing and applying polyurea coatings for over 25 years on a large variety of substrates. They are widely known for manufacturing and installing polyurea floor coatings everywhere from residential garages to commercial kitchens to warehouse facilities. The collective practice gives them over 65 years of experience in the coating industry.
For more information about RockSolid Floors® or their new One Part Polyurea Solutions, please visit http://www.RockSolidFloors.com or contact Mike McAllister at 612-518-2184.
Contact:
Mike McAllister
Director of Marketing
mike(at)rocksolidfloors(dot)com
RockSolid Floors
3001 103rd Lane NE
Blaine, MN 55449
Phone: 612-518-2184
Web: http://www.RockSolidFloors.com
###