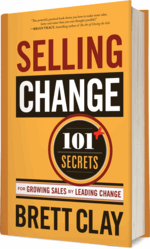 "Customers don't buy features. They buy benefits." --Brett Clay
Seattle, WA (PRWEB) June 30, 2011
Change leadership and sales expert, Brett Clay, says the biggest mistake salespeople make is to sell features instead of benefits. Clay says, "The problem with selling features is that customers don't care about your features. Customers only care about how they benefit."
"One of the hardest concepts for people, even experienced marketers and salespeople, to understand is the difference between a feature and a benefit," says Clay. "For example, I was recently talking to a real estate salesperson at a conference who was proudly telling me about his 'unique selling proposition'—that he provides the best publicity for the homes he lists. He had learned the importance of differentiation, but had not understood the concept of customer value."
Clay says, "The easiest way to understand the difference between features and benefits is that a feature is something a product does. A benefit is something the product enables the buyer to do. And value is a measure of the benefit the buyer derives from taking that action."
Using the real estate example, providing market awareness is something the salesperson does. Therefore, it is a feature of the salesperson's service.
Maximum market awareness might enable the house to sell quickly, enabling the seller to quickly move into a new home. Moving into a new home, therefore, is the benefit.
The value of moving into the new home can be measured in both emotional and economic terms. How strong is the seller's desire to quickly move? Will the seller be taking a higher paying job in the location? Will the seller be lowering his/her costs? Clay says, "Identifying what the customer values and the magnitude of that value is the interesting and most powerful part of the sales process."
"It's easy to confuse features and benefits, especially in luxury consumer products," says Clay. For example, a brochure for a luxury car will list many features, including engine size, horsepower, etc. Those features may differentiate the car from others. But, they are features, not benefits. The primary benefit of a luxury product is that it enables the owner to satisfy his/her needs for belonging and self-esteem—perhaps by bragging about the car's features at the country club. Astute markers and salespeople focus on those benefits, rather than the features.
One of the clearest examples of selling benefits is provided by beer and alcohol advertisers. The graphics in these advertisements, which are often targeted at young males, imply 'if you drink this beverage, you will get this girl'—a crystal-clear benefit. Would sales be the same if the advertisement said, 'fermented hops and barley, 140 calories, 5.1% alcohol, 16-oz package'? Clay says, "It sounds silly, yet, I see salespeople and marketers selling on features all the time."
Selling benefits and customer value isn't much harder than selling features. But, the results are very different. Clay estimates billions of dollars in sales are lost due to improperly trained salespeople failing to deliver customer value. The myth that 'selling is a numbers game' compounds the problem. Company executives have been lead to believe that selling is a matter of making one hundred calls to find the one buyer who wants what the salesperson is selling. "Company executives love this myth, because measuring the number of calls made by salespeople is easy. But, their salespeople would be far more successful if they stopped selling what their customers don't want—their product's features—and started selling what customers do want—benefits," says Clay.
Clay says, "Here is a risk-free, zero-cost way to increase your company's revenues. Train your sales people to sell what customers want."
About Change Leadership Group and Brett Clay
Clay is the author of "Selling Change, 101+ Secrets for Growing Sales by Leading Change" named the best sales book of 2010 and 2011, and is the CEO of Change Leadership Group, LLC, a firm that helps clients improve their sales, marketing, and leadership capabilities. A veteran of 20 years in international sales and marketing management, most recently with Microsoft Corporation, he is an award-winning author, award-winning marketer, trainer, speaker, consultant, and business leader. http://www.ChangeLeadershipGroup.com.
###