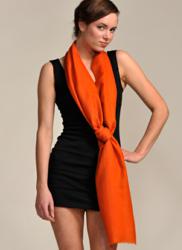 Changing the description from shawl to pashmina can dramatically alter consumers perception of quality and the price retailers can command
Chicago, IL (PRWEB) June 30, 2011
What's in a name? When it comes to the way pashminas are merchandised the answer is quite a lot! Changing just one word in the description from shawl to pashmina can dramatically alter consumers perception of quality and the price retailers can command.
In a recent survey of women carried out by VeryPashmina.com, an online retailer of luxury scarves, pashminas, shawls and wraps:

67% stated that pashminas were a higher quality garment than shawls;
7% stated that there was no difference in quality between a pashmina and a shawl;
0% stated that a shawl was better quality than a pashmina;
26% didn't know the difference between the two
At the heart of this perception that pashminas are high quality garments is the way the understanding of the word pashmina has evolved over time.
The word 'pashmina' has its origins in the Persian word 'pashm', which describes the very fine, downy hair shed from the soft underbelly of mountain goats indigenous to high altitude regions of the Himalayas. These are one of the breeds of goat that produce the better-known cashmere wool. So, pashmina was originally a specific kind of cashmere wool.
This luxuriously soft wool was woven into beautiful shawls worn by the royalty of Central Asia and the aristocracy in Europe. But, whilst originally pashmina was a kind of fiber and a shawl was the product constructed from that fiber, over time the meanings changed. The word pashmina became so synonymous with the high quality shawls it was used to produce that people simply began referring to these shawls as pashminas. So, shawls and pashminas became synonyms. This is similar to the way in which "Scotch" has become identified with sticky tape….. and whisky. In fact whisky is the more appropriate analogy, as the association is at a product rather than a brand level.
On one level this change in meaning hasn't served the term pashmina well. Whilst the US Federal Trade Commission has strict standards for which products can be labeled as cashmere, which has remained clearly identifiable as a fiber, there are no such regulations for pashmina, possibly due to its uncertain status as both a fiber and a product.
So, when people claim to have picked up a 'pashmina' for $5 on the street corner in New York City, this isn't the bargain it might seem. There's almost no chance that the garment they purchased from the street hawker is a genuine pashmina shawl, made from pashmina wool. Chances are it's a 'viscose pashmina' with a completely different drape, durability and feel.
That's why at Very Pashmina the exact fiber composition of our garments is always clearly stated. Our highest quality shawls are labeled 100% cashmere to ensure there's no doubt our customers are getting the highest quality product available.
About Very Pashmina, LLC
Very Pashmina, LLC is a pure play e-commerce company founded in 2010 and based in Chicago Illinois focusing on providing cashmere scarves, pashminas, shawls and wraps to women the world over. Very Pashmina is run by Matthew Oldham, a graduate of the Kellogg Northwestern School of Management with over 15 years experience in analytical marketing in major blue chip organizations.
For more information contact:
Matthew Oldham
Telephone: 847.668.1403
http://www.verypashmina.com
###