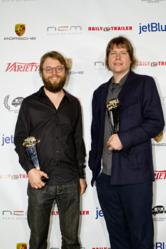 It is the first time a trailer has accomplished this feat since "The Matrix" in 1999.
Los Angeles, CA (PRWEB) June 30, 2011
Last night, "The Social Network" came away from the 12th Annual Golden Trailer Awards with three wins in major categories and the coveted top honor, Best in Show. It is the first time a trailer has accomplished this feat since "The Matrix" in 1999, the year the awards show debuted. After carrying away the trophies for "Best Drama," "Best Music" (which gauges the creative use of music in a promo reel) and "Most Original"—Sony Pictures' "The Social Network" trailer nabbed the top honor, "Best in Show."
Notes Golden Trailer Awards Executive Director, Evelyn Brady-Watters, "The trailer for 'The Social Network' lures you into the drama of the movie without any of the usual selling points in a trailer -- its famous writer, or even the name of its famous subject—but you come away knowing exactly why you want to buy a ticket. We congratulate Sony Pictures and trailer house Mark Woollen and Associates." To see the trailer go to the Golden Trailer website.
The Awards listed below were presented at the Music Box Theatre in Los Angeles, in a ceremony marked by outrageous comedy. The night was hosted by comedian Natasha Leggero, with presenters including Upright Citizen's Brigade's Jon Daly (also head-writer), comedian Darren Carter ("Chelsea Lately"), voice-over actor Jim Cummings (named a "Disney Legend" in 2010), actors Clancy Brown ("Highlander") and Patrick Fabian ("Big Love") and teen heartthrob Dylan Minette (2010 nominee for Young Artist Award for "Let Me In"). Renowned comedians Brian Huskey, Joe Wengart, Neil Campbell and Duncan Trussell also performed. The complete list of awards in 62 categories is available on http://www.goldentrailer.com.
JetBlue, Porsche and Variety top the list of this year's sponsors, with additional support from Steiner Studios, National CineMedia, The Darling Agency, Rok!t, PRG, Position Music, Firstcom, and Dailytrailer.com.
ABOUT THE GOLDEN TRAILER AWARDS
Now in its twelfth year, the Golden Trailer Awards show celebrates the art and fun of movie promotion. Golden Trailer Awards are recognized internationally as the top honors in the field, and are followed both by industry professionals and by movie-trailer lovers across the globe. The Golden Trailer Awards organization was founded in 1999 by Executive Director Evelyn Brady-Watters and Executive Producer Monica Brady. This coming December, The Golden Trailer Awards will hold their first international ceremony in Mumbai, India.
THE TWELFTH ANNUAL GOLDEN TRAILER AWARDS
Presented at the Music Box Theatre, Los Angeles, June 29th 2011
Hosted by Natasha Leggero
Show Categories
Best Action
Inception "Control", Warner Bros., BLT:AV
Best Animation/Family
Rango "Teaser", Paramount Pictures, The Ant Farm
Best Comedy
The Other Guys "Return to Glory", Columbia, Seismic Productions
Best Documentary
The Tillman Story "Trailer 1", The Weinstein Company/ A&E Indie Films, Zealot Productions Inc.
Best Drama
The Social Network "Trailer #2", Sony Pictures, Mark Woollen & Associates
Best Horror
The Last Exorcism, LIONSGATE, Mojo
Best Independent
Tree of Life, Fox Searchlight, Mark Woollen & Associates
Best Music
The Social Network "Trailer 2", Sony Pictures, Mark Woollen & Associates
Best Romance
Blue Valentine "Trailer 1", The Weinstein Company, Zealot Productions Inc
Best Thriller
Black Swan, Fox Searchlight, Mark Woollen & Associates
Best Video Game Trailer
Starcraft II "Prepare", Blizzard Entertainment, Mojo
The Don LaFontaine Award for Best Voice Over
Born To Be Wild "Evolution", Warner Bros. Pictures, Mob Scene Creative + Productions
Golden Fleece
Burlesque "Make A Star", Screen Gems, Seismic Productions
Most Original Trailer
The Social Network "Trailer #2", Sony Pictures, Mark Woollen & Associates
Summer 2011 Blockbuster Trailer
Transformers: Dark of the Moon "Alien Secret", Paramount Pictures, Wild Card
Trashiest Trailer
Hobo With A Shotgun "Red Band", Magnet, AV Squad
Best In Show
The Social Network "Trailer #2", Sony Pictures, Mark Woollen & Associate
To see the awards in all 62 categories, see http://www.goldentrailer.com
For press info, please contact:
Kahn Media Strategies
info@kahnmediastrategies.com