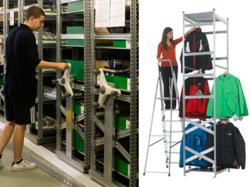 (PRWEB) June 30, 2011
Knowing the best way to outfit a stockroom can be a puzzle for retailers. It involves a combination of space planning, knowing what equipment to use and the best arrangement. But getting it right offers many benefits: storage capacity can be increased, sales opportunities maximised and the cost of restocking reduced. During the last 25 years, storage specialist Action Storage has helped over 300 stores across Europe for over 20 of the major high street chains, to plan and outfit their stockroom areas. It has done this through both the provision of innovative storage products and its expertise in space planning.
To assist retailers to maximise their stockroom areas, Action Storage provides a unique survey and design service. This entails Action Storage visiting a retailer's premises to assess the available space before providing CAD drawings on the best possible stockroom arrangement. Through this service, Action Storage removes the guesswork of planning a stockroom's arrangement and gives retailers the reassurance knowing they've maximised their storage capacity.
Action Storage's survey and design service has been utilised by numerous major brands and retailers over the years. This includes Monster Energy, which Action Storage assisted in maximising the stock holding capacity of its new warehouse, and City Electrical Factors, which was helped in outfitting a new branch. Both companies found that the increased storage capacity was integral to their ability to increase turnover by being able to fulfil more orders more quickly.
Currently Action Storage's expertise is being utilised at the new Westfield Stratford City, the largest shopping centre in Europe. All stores have to be open by the end of September, and to help ensure this happens, Action Storage's in-house installation team will be relied upon to demonstrate their extensive experience in completing shop outfits when there is a lot of onsite activity. A pertinent example is Action Storage's involvement with the outfitting of retailers at the Westfield shopping complex in Shepherds Bush, London. When it first opened a fifth of its retailers remained shut because they'd been unable to complete the outfit of their shop floor and stockroom in time. The 15 retailers assisted by Action Storage, however, were all open for business and ready to greet shoppers on a brisk opening day.
Action Storage's stockroom range includes a wide selection of flat shelving, mobile shelving, trolleys and pallet racking for use in stockrooms and warehouses. Notably it supplies the innovative and highly adjustable Supershelf™ Garment Hanging system, which can be configured to suit the available space and maximise a stockroom's capacity.
Further information on Action Storage's Supershelf™ Garment Hanging system and the 4000 other products in its range can be found on its website, where you can also order its 180 page catalogue free of charge.
About Action Storage
For 25 years Action Storage has supplied shelving, racking and other storage equipment using the latest materials and innovative designs. Its clients include supermarkets, warehouses, government offices, schools and anyone else requiring high quality storage systems throughout the UK and mainland Europe.
Action Storage prides itself on its high service levels, and provides a free, unique advice line for discussing your requirements and assessing the perfect storage solution.
For service enquiries contact:
Website: http://www.action-storage.co.uk
Email: sales(at)action-storage(dot)co(dot)uk
Tel UK: 0800 592215
Outside UK: +44 (0)1908 525700
Fax: +44 (0)1908 321650
Action Storage
6 Fitzhamon Court
Wolverton Mill South
Milton Keynes
Bucks
MK12 6LB
###