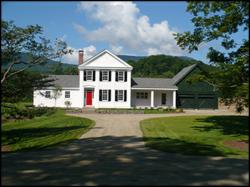 There is no more fun on Fourth of July weekend than visiting Vermont homes to get a feel for what it would be like to live your dream
Dorset, VT (PRWEB) June 30, 2011
Josiah Allen Real Estate of Dorset Opens Doors to 5 Area Homes with Wide Range of Open Houses.
"There is no more fun on Fourth of July weekend than visiting Vermont homes to get a feel for what it would be like to live your dream," says Laura Beckwith, principal broker at Josiah Allen Real Estate in Dorset, VT. The real estate agency is holding 5 open houses this weekend, each of the properties offering something unique.
The showcase property at $2,500,000 is also the largest—67 stunning acres and a recently renovated house in the prestigious Dorset Hollow neighborhood. It also boasts 2 ponds and frontage on the famous Mettowee River (a trout fishing nirvana). The acreage and setting here is simply stunning. This Dorset Hollow property is open for public viewing on Sunday, July 3 from 2:00-5:00PM.
There are also two houses adjacent to each other in Manchester, with open houses for both running the course of the weekend Friday through Monday, July 1-4, from 2-4 pm each day. These are newly built, state-of-the-art beauties, constructed to be highly energy efficient (including geothermal heating and cooling), green construction methods, and designed by Architect Ramsey Gourd noted for his historical accuracy and use of superior materials and design elements. These houses are on the west branch of The Battenkill River (fly fishing's Vermont mecca) and are priced at $1,250,000 and $1,500,000.
If a genteel lifestyle with marble sidewalks outside your door, a village setting and proximity to the Equinox Resort & Spa is more to your tastes, visit on Saturday, July 2, from 1-5 PM. This Manchester Village home will allow you to walk to tee times at either The Equinox or The Ekwanok Country Club. It is a 1997 historically situated reproduction with large cook's kitchen and such refined features as coffered ceilings and chair rails. This property has also been recently reduced to $649,000.
Located in the heart of Manchester Village, the 5th open house, running on Saturday, July 2, from 2-5 PM, is a circa 1860 farmhouse with lots of charm and, at $299,000, is priced to sell. Wooden floors, a nice downstairs layout, and a classic fireplace all lend a feeling of comfort and ease. The house feels bigger than its 2300 square feet and the Village location is highly desirable. Relax on the screened porch and let the world's troubles fade away.
Josiah Allen Real Estate is Southern Vermont's premier real estate company. Visit their website at josiahallen.com to learn more about these open houses and the other properties for sale in the region. With Josiah Allen on your side, you too, can have Vermont for life!
###