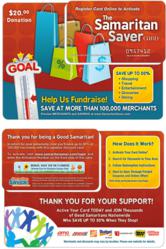 Fairfax, VA (PRWEB) June 30, 2011
The Samaritan Card, the premier discount card fundraising product of Samaritan Fundraising, an innovative fundraising products company specializing in the fundraising needs of Christian organizations, has recently been redesigned.
The new design features a completely revamped Samaritan Card surrounded by a plastic cardholder, which makes transporting and handling the discount cards much easier for fundraising groups. The new card and cardholder also showcase easy-to-read instructions on how to activate the card online, reducing any confusion as to how to properly use the discount card.
Since it's limited release in early June, the new Samaritan Card has been well received by customers, influencing Samaritan Fundraising's decision to discontinue the use of the old design.
"Our customers have responded positively to the change in design, as the new design is helping them sell more product and raise more money," said Tom Freiling, founder and vice president of Samaritan Fundraising. "Fundraising can be hard, and the new design is meant to make the process of fundraising easier on our customers. The new product design also leverages our core strength, which is providing our cardholders with savings of up to 50% at more than 100,000 merchants nationwide."
Beginning July 1, the new Samaritan Card and cardholder will be made available to all fundraising groups.
About Samaritan Fundraising:
Samaritan Fundraising is a national fundraising company dedicated to providing churches, schools, youth groups, and non-profit organizations with innovative fundraising products to help them reach their fundraising goal.
Bought by Salem Communications in September 2010, Samaritan Fundraising has become a trusted fundraising leader among local and national faith-based groups.
For more information, visit http://www.SamaritanFundraising.com.
# # #