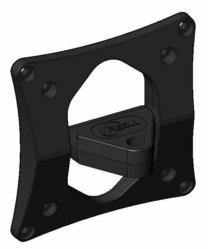 The lower positioning forces and simple package design give vTilt an edge
Saint Paul, MN (PRWEB) June 30, 2011
Since it's release in April 2011 the vTilt VESA Monitor Mount has been getting rave reviews for it's smooth quality feel, consistent performance, and easy position adjustment.
"We are pleased with the positive response and interest from the market," says Product Manager Steve Romslo, "Customers are surprised with how well the vTilt holds position and how easy it is to move. They see it as an easy to use all-in-one solution for adding tilt and swivel to their monitor mount."
vTilt is designed to attach directly to either the 75mm or 100mm mounting holes of a standard VESA compliant monitor. It's compact design has a durable nylon housing that completely seals all internal components and lubricants.
Reell's ability to provide high torque in a small package size allows vTilt to be only 5 cm deep. This close coupling of the tilt axis to the back of the monitor reduces the force needed to hold the monitor in place. This makes vTilt easier to move while still providing solid position control.
vTilt's smooth feel is further enhanced by Reell's proprietary asymmetric torque design, which allow for easy upward monitor adjustment without compromising position control in the downward direction.
"The lower positioning forces and simple package give vTilt an edge in many applications," explains Romslo, "Customers also really like having a less expensive high-performance alternative to existing mounting solutions."
For additional information or to request a sample, contact Steve Romslo (steve(dot)romslo(at)reell(dot)com, +1 651.765.6922) .
Reell Precision Manufacturing provides high-quality innovative solutions to transmit torque, control angular position and protect delicate components from excessive force. Combining the worlds most precisely controlled torque technology with the industry's most experienced engineering team provides a perfect product fit in customer applications. With offices on three continents Reell's responsive global customer service and world class manufacturing ensures easy ordering with on-time delivery.
Follow Reell on twitter:@reell
###