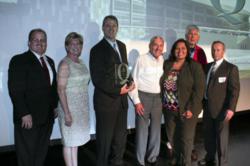 Several divisions of BEST Contracting contributed to building this award winning facility.
Gardena, CA (PRWEB) June 30, 2011
On June 28, 2011 the Alliance for Quality Construction presented the 9th annual "Q" award to the Los Angeles Unified School District (LAUSD) for its recently constructed Robert F Kennedy Community Schools (aka Central Learning Center).
Built by Hensel Phelps to a design by local architect Gonzalez Goodale, BEST Contracting Services is honored and proud to be part of this award winning construction team.
BEST was awarded multiple scopes of work which involved many different trades. Several divisions of BEST contributed to building the award winning facility:
1. Façade Division supplied and installed blue zinc wall panels
2. Roofing & Waterproofing Division
a. Supplied and installed matching blue standing seam roofing on the multi-story central building
b.Supplied and installed title 24 compliant PVC roofing on the flat roof areas
c.Supplied and installed the waterproofing behind the zinc wall panels
3. Sheet Metal Division
a. Fabricated louvers for the metal wall panels
b. Fabricated flashings and other components for the roof
The project is located on the site of the old Ambassador Hotel on Wilshire Blvd. in Los Angeles, and is remembered as the hotel in which Robert F Kennedy was assassinated in 1968. A 20 x 30 foot stainless steel wall features excerpts from a RFK speech given in South Africa and benches throughout the campus bear information on Kennedy's work. Parts of the old hotel were retained in constructing this new school. The coffee shop was converted into the teacher's lounge and the world famous Cocoanut Grove, both designed by the noted architect Paul Williams, was slated to be the new auditorium however, due to structural deficiencies only one wall was able to be retained.
Consisting of six schools on the one site ranging from K-12, the large complex serves 4200 student who live in the surrounding 9 block area.
For more details on Robert F Kennedy Community Schools: http://www.bestcontracting.com/rfkschool
The Alliance for Quality Construction is a southern California association of union contractors and building trade unions dedicated to promoting industry awareness of the value, quality and integrity provided by union contractors and their skilled craftsman. Other notable projects previously receiving this award include the Walt Disney Concert Hall in downtown LA and Our Lady of the Angels Cathedral.
CONTACT
Will Breiholz, Director of Marketing
BEST Contracting Services, Inc.
wbreiholz(at)BESTcontracting(dot)com
ABOUT BEST CONTRACTING SERVICES, INC.
BEST is a large specialty contractor that provides construction services for the entire Building Envelope, serving commercial, institutional and industrial building owners as well as the General Contracting community.
Broadly, BEST's services include Roofing, Waterproofing, Glazing, Metal Panels, Sheet Metal, Concrete Restoration, HVAC and "Green" Construction (including Solar, Cool Roofs, Daylighting and Green Roofs). BEST has been awarded a GSA Schedule 56 contract. In addition, BEST is a certified Butler Builder. BEST is licensed in California, Arizona, Nevada, Washington, Oregon and New Mexico. BEST also participates in the federal arena, performing on government projects throughout the United States.
BEST has ranked on Engineering News Record's National Top 10 contractors list in their specialty for nearly a decade.
###