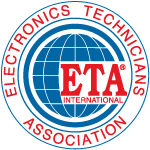 Greencastle, IN (PRWEB) June 30, 2011
As the demand for overall healthcare increases, so does the demand for qualified Medical Equipment Repairers. This is why ETA International is excited to announce the release of their new version of the Biomedical Electronics Technician (BMD) certification. The new version, consisting of 75 questions, is complete. In addition, ETA currently has subject matter experts reviewing the Biomedical Imaging Equipment Technician (BIET) certification.
A career as a Biomedical Electronics Technician is one that is both financially rewarding and allows you to make a difference in people's lives. A Biomedical Electronics Technician develops, installs, and repairs state of the art technology such as life support systems, clinical lab equipment, emergency breathing apparatuses, and patient monitors in hospitals and clinics. According to the Bureau of Labor Statistics, Medical Equipment Repairers earn a median annual income of $41,520 and the largest employers are equipment suppliers and hospitals. ¹ Other employers for Biomedical Electronics Technicians are clinics, private sector, and military. The job outlook for Medical Equipment Repairers is excellent. The field is expected to grow 27% by 2018, which is much faster than all other occupations, according to the Bureau of Labor Statistics.¹
Most employers require that a Biomedical Electronics Technician has technical training and at least an Associate's degree. In addition, many require that the technician obtains certification within a certain time period of their hire date. Many employers, especially hospitals, will cover the costs for certification.
Obtaining certification demonstrates a level of competency and can increase a person's opportunity for advancement. It proves that the technician has the knowledge to ensure a safe and reliable work environment.
A Biomedical Electronics Technician is expected to be competent and possess abilities in many technical and human relations areas. A full list of the competencies for ETA's Biomedical Electronics Technician certification can be viewed at http://www.eta-i.org/Comps/BMD%20Comps.pdf.
The Biomedical Electronics Technician certification exam through ETA International is $75. For more information or to schedule an exam, please call 800.288.3824 or visit ETA online at http://www.eta-i.org.
ETA® International - Founded in 1978, the Electronics Technicians Association International is a not-for-profit, professional association promoting excellence in electronics technologies through certifications. The association's initiatives are to provide a prominent certification program of competency criteria and testing benchmarks that steer international electronic standards and renowned professional electronics credentials. Today, ETA has issued over 110,000 technical certifications covering more than 70 certification programs in a variety of electronics fields. The association consists of over 5,000 members, 625 Subject Matter Experts (SME's) serving on various Industry Advisory Committees and 1,010 Exam/Certification Administrators (CA's). (http://www.etainternational.org)
Download this press release at - http://www.eta-i.org/pr/BMD%20press%20release.pdf
###