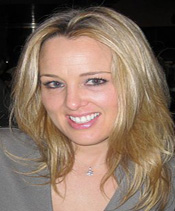 "I'm very excited about the new promotion I'm offering. A home owner can save 1.4-1.6% on list side real estate commissions that can be used toward their new purchase. Who better to sell the hills than someone who lives in the hills?"
Los Angeles, CA (PRWEB) June 30, 2011
Having lived in the Hollywood Hills for almost 6 years, local real estate agent Laura Hall noticed numerous outside agents with non-local area codes marketing to the neighborhood she lives in. Understanding that no one can sell a neighborhood like a bona fide neighbor, she made efforts to reach out to the Hollywood Hills home owner community. However, she often wondered how to break through the clutter of flyers and seasonal freebies like pumpkins left on the doorstep at Halloween, etc. Finally, the idea struck her to offer her neighbors he expertise in the area as a neighbor by offering a super-low listing side commission as a loss leader.
For the duration of 2011, any home owner in 90068, 90069 and 90046 can list their home for sale with Laura Hall for a list side commission of 1.1%. The listing contract must be inked in 2011 and must be for a duration of 6 months. The sellers will still receive full-service at the reduced rate. Full-service real estate includes property website, digital press releases, open houses as often as the owner can accommodate them and broker open houses. Signage, advertising and showings will all be as they would for a 2.5 or 3% commission as well. Properties will be featured on the brokerage website hollywoodhillshomes.biz, which enjoys page one rankings on google and bing for the search terms of "Hollywood hills real estate" and "Hollywood hills homes". Numerous other internet sites will carry the listings as well to ensure the greatest exposure.
"I'm very excited about the new promotion I'm offering. A home owner can save 1.4-1.6% on list side real estate commissions that can be used toward their new purchase. Who better to sell the hills than someone who lives in the hills?"
For media interviews, contact Laura Hall, (866) 554-6637.
ABOUT LAURA HALL
Laura Hall was raised in Colorado until she attended the University of California at Riverside. In 2004 she went to work for Impac Lending and in 2006 Wachovia. She left corporate wholesale lending to start her own enterprise, Casa Pacifica Homes and Loans in 2006. She focuses on Hollywood Hills real estate, where she lives, as well as distressed real estate sales. DRE license #01306395
(*) For more information including: media inquiries, investors, homebuyers, asset management assignments, or electronic press kits (EPKs) of clientele contact our main office or go online to our official website at HollywoodHillsHomes.biz or call (866) 55 HOMES.
###