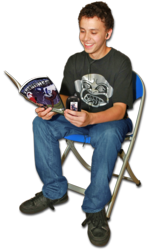 Numbers don't lie. Every one of my struggling, reluctant readers passed the Georgia CRT … listening to the audio and following along …
Seattle, WA (PRWEB) June 30, 2011
Book Buddy Digital Media, Inc. President, Brett Hodus announced yesterday, that in addition to the bulk ordering of the GoReader™ the company expects to have its on–demand production fully operational in a few weeks. "We've decided that we want to make our technology available to smaller publishers that positively impact education and for all publishers that have important titles that may not meet the criteria for bulk production. This means that we can get to more struggling readers and English Language learners and deliver the Hear and Read benefits of the GoReader™ device to more people."
The company's slogan is:" …. a second chance to fall in love with reading." The main focus of the company is the GoReader™ device that is an easy-to-use audio book player for struggling or disengaged readers to use while reading the actual book. Hodus added, "It helps students focus and develop good reading skills. They get the benefits of a reading circle without the stigma because their reading isn't strong enough. Of all the tools that any student needs to master, reading tops the list. Without good reading skills, further education is not possible. That's our focus. We succeed when a student doesn't need us anymore. It may sound like a marketing nightmare, but as a mission, it's sublime. "
English language learners are another focus of the company. Book Buddy's GoReader™ devices are very easy-to-use and in a very attractive form factor. The device is also a single purpose player. There are no distractions. It has no other purpose than to play the audio book content that is permanently installed on the device.
Alex Woo, Chairman of Book Buddy Digital Media, Inc. said, "We actually had to turn down business with certain retailers that wanted to feature the device as a stand-alone audio player with permanent files. It was a difficult decision but the entire reason for our company's existence is education. We've been motivated by testimonials and reports of students that are using our product as a companion to books and their successes."
The company is proud of their mission to create a reading aid that blends established educational principles with enabling technologies while pricing it so that it is in reach of the people that need it most. Feed back to the company has been very supportive. A teacher, I. Abrams from Marietta, GA wrote: "Numbers don't lie. Every one of my struggling, reluctant readers passed the Georgia CRT … listening to the audio and following along … students became confident readers with a mastery of comprehension skills. C. Albert, ESE Teacher, Jacksonville, Florida wrote: "Mrs. Albert, I read along with my GoReader™ and finished the whole book last night. Can[sic] I have another one?
The Book Buddy GoReader™ is available through a growing number of educational publishers and distributors around North America. The GoReader™ is always sold with the books. Brett Hodus said, " For publishers this is a very significant channel advantage and for struggling readers … well more books for them to enjoy. That's how we came up with our company slogan, discussing the many ways we might be able to positively affect those that have fallen through the cracks and deliver some assistance to teachers everywhere."