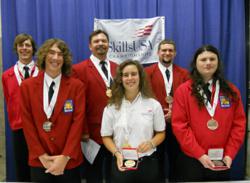 Overall, the level of performance skills displayed by the contestants, especially in the postsecondary group, was much higher this year". Bob Dickerson, National Education Team Chair
Greencastle, IN (PRWEB) June 30, 2011
This year's SkillsUSA National Competition week delivered success and excitement to students and educators from around the country. Kansas City, Missouri remained the home of the event this year which took place June 19 – 24, 2011.
The 2011 SkillsUSA National Competition featured 5600 outstanding career and technical education students who competed in 94 different hands-on skills and leadership competitions. 2011 was also the seventh year that ETA was an Official Sponsor and the tenth year that ETA sponsored the Telecommunication Cabling Contest.
The Telecommunications Cabling Contest consisted of 29 contestants working around the clock (and each other) while being assessed in technical areas such as cabling construction, installation, troubleshooting, safety and procedures, as well as customer service and professional development skills. The contestants must be prepared to meet a high code of conduct and skills difficulty. "The 2011 Telecommunications Cabling Contest was expanded to include more connectorization and troubleshooting. Our contestant count increased by nearly 30% and these young people displayed tremendous levels of knowledge, skill, and especially, professionalism. Many thanks to the industry and education team members who worked so well together to prepare and run this 2011 contest," said Teresa Maher, ETA President and Technical Chairman.
Overall, the level of performance skills displayed by the contestants, especially in the postsecondary group, was much higher this year", said National Education Team Chair, Bob Dickerson.
ETA International and their partners' contributed nearly $30,000 to sponsor the Telecommunications Cabling Contest. ETA also offered the use of its numerous electronics and customer service certifications to other competitions at both state and national levels.
The members of the national technical committee for telecommunications cabling include: Chair, Teresa Maher, ETA, Intl. (IN); Mike Gleason, Panduit Corp. (IL); Kevin Seeley, BICSI (UT); Richard Booth, ETA, Intl. (AZ); Kevin Celata, CWA (D.C.); Matt Humphries, Fluke Networks (WA); Tom Janca, CETsr, IBM (CO); Bob Schoenherr, Cisco Systems, Inc. (CA).
The members for the national education team members include: Chair, Bob Dickerson, Red Education Consulting (NC); Richard Darnell, Tyco Electronics (UT); Dan Parmer, Stanley Community College (NC).
Sponsors of the competition include: Delmar/Cengage Learning, Kitco Fiber Optics, Milwaukee Electric Tools, Bosch tools, Timberland PRO, Communications Workers of America, Cisco, Fluke Networks, John Wiley Publishing, DYMO, ETA International, Panduit, Bedrock Learning, The Light Brigade, BICSI, Stanly Community College, Red Education Consulting, Irwin, Lowes, Kobalt, Commenco, eITprep, and Raytheon.
Congratulations to the winners of the 2011 Telecommunications Cabling Contest
GOLD:
High School: Allison A. Hassard, Weaver Academy, Greensboro, NC
College/Postsecondary: Dan Murphy, Metropolitan Community College, Omaha, NE
SILVER:
High School: Collin L. Rogow, Canyon's Technology Education Center, Sandy, UT
College/Postsecondary: Gregory Zellner, Tennessee Technology Center at Knoxville, Knoxville, TN
BRONZE:
High School: Matthew Reenalda, Spotsylvania Career & Technical Center, Spotsylvania, VA
College/Postsecondary: Cagney Slusmeyer, Wiregrass Georgia Tech College-Fitzgerald, Fitzgerald, GA
The Telecommunications Cabling Contest is for students interested in voice and data network cabling and installation. The contestants are tested on worldwide standards for data and voice connections, physical/logical networks and signal transmission. Contestants demonstrate skills in reading network design documentation, part list set up and purchase, pulling and mounting cable, choosing wiring closets, patch panel installation and termination, installing jacks and cable testing. The contest stresses safety and working effectively in-group environments.
ETA® International - Founded in 1978, the Electronics Technicians Association International is a not-for-profit, professional association promoting excellence in electronics technologies through certifications. The association's initiatives are to provide a prominent certification program of competency criteria and testing benchmarks that steer international electronic standards and renowned professional electronics credentials. Today, ETA has issued over 115,000 technical certifications covering more than 70 certification programs in a variety of electronics fields. The association consists of over 5,000 members, 625 Subject Matter Experts (SME's) serving on various Industry Advisory Committees and 1,010 Exam/Certification Administrators (CA's). (http://www.etainternational.org)
###
Download this press release at: http://www.eta-i.org/pr/skillsrecap11.pdf