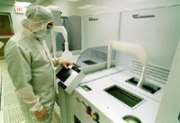 cleanrooms and wet benches used to be protected by expensive fire-protection systems. But, by the time a fire triggered a sprinkler system, damage could already have occurred in the rest of the cleanroom.
San Jose, CA (PRWEB) June 30, 2011
Professional Plastics, Inc. (San Jose, CA) and Professional Plastics Pte Ltd (Singapore) have recently expanded their offerings of FM-4910 materials used for the production of semiconductor wet process equipment and clean room furniture. To support semiconductor industry growth in the SE Asian market, the company has made significant investments in materials to meet the FM-4910 protocol. These materials include Kynar, Solef and Symalit brands of PVDF, Halar ECTFE and special grades of CPVC sheets, and rods.
FM4910 is the fire retardant property standard established by Factory Mutual System, a worldwide industrial insurance organization, for materials used in clean room applications. Test criteria for the selection of materials for clean rooms are presented and the test criteria deal with limiting fire propagation and limiting contamination of the clean room environment by smoke.
Professional Plastics is a distribution partner for FM-4910 approved manufacturers such as Vycom, Quadrant, Rochling, Simona, Boltaron, and Takiron. With fiftteen locations in the USA and Singapore, Professional Plastics is able to provide local stock, as well as, logistical and technical support to customers in most of the key semiconductor manufacturing cluster areas.
As computer chips get smaller and faster, the manufacturing process required to create them gets more and more complex—even the slightest delay in production can mean millions of dollars in lost revenue. One of the major causes of delay in the chip manufacturing process is contamination. Contamination from a fire, no matter how small, could potentially put a chip maker out of business for weeks, if not permanently.
In the past, cleanrooms and wet benches needed to be protected by sprinklers or more expensive special fire-protection systems. But, by the time a cleanroom fire propagated and triggered a sprinkler or special fire protection system, damage could already have occurred in the rest of the cleanroom.
Driven by rising insurance costs and potential lost earnings, chip makers are requiring suppliers to use materials in wet-bench fabrication that are less flammable and therefore don't need additional—and costly—fire protection systems installed, so they will be inherently safe when they arrive in the cleanroom.
The Cleanroom Materials Flammability Test Protocol (Class 4910) contains the method for conducting tests. Now, wet-bench manufacturers and users can apply the cleanroom protocol to develop plastic materials and equipment capable of resisting fire, emitting little, if any smoke, and producing little, if any, corrosive by-products. Materials passing the cleanroom protocol, subsequently, can be listed in the Approval Guide, a publication of FM Approvals.
FM-4910 approved materials include Kynar, Solef and Symalit PVDF, Halar ECTFE, CP7D and certain grades of CPVC. Professional Plastics offers these products in a variety of shapes including sheets, rods and welding rods.
For more information, Call (888) 995-7767 or visit Professional Plastics website.
http://www.professionalplastics.com/FM4910ApprovedPlasticMaterials
###