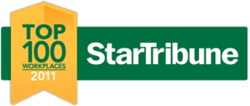 We value the contributions of every Loffler employee in that they are the ones that are counted on to exceed each and every client's expectations.
Bloomington, MN (PRWEB) June 30, 2011
Loffler Companies, the leading office technology and services provider in the upper Midwest, has been named one of the Top 100 Workplaces in Minnesota based on an employee-based survey project from the Star Tribune. The Star Tribune Top Workplaces special section was published in the Star Tribune on Sunday, June 19. The report can also be found at http://www.StarTribune.com/topworkplaces2011.
Produced by the same team that compiles the 20-year-old Star Tribune 100 report of the best-performing public companies in Minnesota, Top Workplaces recognizes the most progressive companies in Minnesota based on employee opinions about company leadership, communication, career opportunities, workplace environment, managerial skills, pay and benefits. The analysis included responses from over 60,500 employees at Minnesota public, private and nonprofit organizations. Results were based solely on survey feedback from Loffler team members.
The rankings in the Star Tribune Top 100 Workplaces are based on survey information collected by WorkplaceDynamics, an independent company specializing in employee engagement and retention. Loffler Companies was ranked as one of the top workplaces as part of the midsize company list.
"We are very honored by this award by the Star Tribune in that it is based on the valued feedback from our most critical asset, our employees," said Jim Loffler, CEO and president of Loffler Companies. "We value the contributions of every Loffler employee in that they are the ones that are counted on to exceed each and every client's expectations."
Star Tribune Publisher Michael J. Klingensmith said, "The companies in the Star Tribune Top 100 Workplaces deserve high praise for creating the very best work environments in the state of Minnesota. My congratulations to each of these exceptional companies." To qualify for the Star Tribune Top Workplaces, a company must have more than 50 employees in Minnesota. Over 1,200 companies were invited to participate. Rankings were composite scores calculated purely on the basis of employee responses.
"By providing the best-in-class set of technology and services solution to meet a client's unique requirements, we can improve a client's productivity and bottom line. We can exceed client expectations when we match this with solid processes deployed by the best and the brightest people in the industry," adds Don Tremblay, vice president and general manager.
About Loffler Companies
Founded in 1986 by Jim Loffler, Loffler Companies provides office technology and services to improve a client's productivity and bottom line results. Today, Loffler has 285 employees supporting clients in Minnesota and Western Wisconsin that are local, national, and international in scope. Loffler provides integrated office technology and services partnered with leading brands such as Canon, Konica Minolta, HP, Microsoft, NEC, and ShoreTel. Its offerings include multifunctional copiers, office printers, managed print services, IP telephone systems, IT managed services, document management, dictation, call recorders, and on-site managed FM services. Loffler is recognized by multiple partners as one of the top 15 office technology and services dealers in the country.
For more information about Loffler Companies and how it can help your organization succeed, you may contact Gary Volbert at 952-925-6816, gvolbert(at)loffler.com or visit http://www.loffler.com.
###