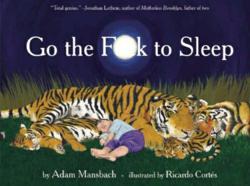 New York, NY (PRWEB) June 30, 2011
New York Times best-selling author Adam Mansbach, and Akashic Books have signed with Krupp Kommunications, a full-service public relations, marketing and branding agency for personal media representation. Published by Akashic Books, Mansbach's buzzed-about picture-book Go the F**k to Sleep serves as a sardonic sanity-saver for disenchanted parents the world over.
The hilarious and hugely popular book is already #1 on The New York Times, The Wall Street Journal, and the Amazon.com Bestsellers Lists as well as numerous bestsellers lists worldwide.
At once unexpected and universally resonant, Go the F**k to Sleep, blends blunt authenticity with classic storybook whimsy. Exhausted by his own daughter Vivien's tedious two-hour bedtime routine, Mansbach penned a bedtime read that speaks the mind of beleaguered parents everywhere. The beautiful illustrations and rhyming cadence of Mansbach's book yield to this timeless truth: It's really difficult to get your child to Go the F**k to Sleep.
Vividly illustrated by Richard Cortes, Go the F**k to Sleep has shot to the top of the best-sellers lists. The pitch-perfect audio version of Go the F**k to Sleep, read by superstar Samuel L. Jackson, has become an overnight sensation as well.
Mansbach's book has become a warm, wry, and witty phenomenon, achieving incredible popularity across all channels of media. Go the F**k to Sleep took the Number one spot on Amazon.com with more than a month to go before its publication. Already on its 6th printing, Go the F**k to Sleep currently boasts 450,000 copies in print. Film rights have already been sold to Fox 2000.
Offering a tongue-in-cheek take on universal theme, "Go the F**k to Sleep" continues to achieve stunning success. Mansbach's book offers solace to disillusioned parents who have run through routine of bedtime stories and lullabies, yet still maintain their sense of humor…if not quite their sanity.
Go the F**k to Sleep is the rare book that strikes a chord with almost everyone who sees it. But as a first time mom of a 4 month old, this was truly the perfect project at the perfect time- and I'm beyond excited to help share this book with the world," commented K2 CEO Heidi Krupp. "As any mom can tell you, getting your children to sleep is a struggle, no matter how adorable they are. Adam's book is clever, creative, and completely unique, and the perfect antidote to the nightly bedtime battle."
"We are so proud of this book and are so excited to be working with K2 to drive this project's momentum," stated Johnny Temple, publisher of Akashic Books. "Together we will continue to advance this book's stunning success."
About Krupp Kommunications, Inc.
Established in 1996, Krupp Kommunications (K2) is an award winning integrated public relations, branding, media and marketing agency specializing in brand development for lifestyle, entertainment, and publishing properties. K2 works with clients to create customized, strategic campaigns that deliver extraordinary results. K2's mission is to build brands that enrich lives by working with individuals and organizations who improve the world around them. For more information, please visit http://www.kruppkommunications.com.
# # #