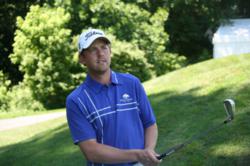 The goal was to find a player who exemplified the values, integrity and tenacity of Palo Verde Capital... Bryce Molder clearly fits the bill.
Scottsdale, AZ (PRWEB) June 30, 2011
Palo Verde Capital announced that it has signed Bryce Molder of the PGA Tour as a corporate representative. The deal includes multiple corporate days and left chest signage on Mr. Molder's golf apparel.
"Aligning ourselves with someone of Bryce's character was another important step in positioning the firm with institutional and high net worth investors. The goal was to find a player who exemplified the values, integrity and tenacity of Palo Verde Capital ... Bryce Molder fits that bill. Bryce has overcome many adversities and has managed to excel even under the most challenging of circumstances" said Tony Stacy Managing Director and Founder of the firm.
"Obviously, representing any firm in the financial services industry; especially in the alternative management space, is a decision not to be taken lightly. Having the opportunity to experience Palo Verde as an investor, as well as see, first-hand, their discipline, focus and commitment to transparency, the decision was easy. I love the Palo Verde story and am thrilled with this affiliation" Bryce was quoted.
Palo Verde Capital plans to include Bryce on its road show slated for the second half of the year. Currently, the firm has institutional events planned for Boston, Chicago, Dallas, Phoenix, Los Angeles and Seattle. "Golf is in our DNA, so including a golf aspect to the build out of our distribution strategy is an exciting opportunity for all of us" stated Jim Strickland, Firm Partner and Director of the Investor Experience. "We believe Bryce is the perfect partner to our long term relationship strategy."
About Bryce Molder:
Bryce was born with Poland Syndrome, leaving him without a left pectoral muscle along with an underdeveloped left hand. Overcoming the physical challenges associated with Poland Syndrome, Bryce became a highly sought after junior golfer, ultimately choosing to attend Georgia Tech. Bryce went on to establish multiple collegiate records, including becoming one of only four players in history to achieve First Team All-American honors four straight years (David Duval, Gary Hallberg, Phil Mickelson). A two-time Walker Cupper and three time ACC Player of the Year, Bryce was labeled a "can't miss" out of college, however, struggled in the early years of his professional career. With 11 top ten finishes over the past two and a half years, Bryce has earned the recognition as a player to be watched. Most recently, Molder is coming off his most successful year on the PGA Tour, finishing 63rd on the money list with more than $1.4 in earnings and a world ranking of 79. Delivering results under challenging circumstances has been an on-going theme, as Bryce has spent his entire life achieving lofty goals, inspiring others along the way who dare to dream big.
About Poland Syndrome:
Named after Sir Alfred Poland, Poland's Syndrome is described as an absence or underdevelopment of the chest muscle (pectoralis) on one side of the body and webbing of the fingers (cutaneous syndactyly) of the hand on the same side (ipsilateral hand). Sometimes referred to as "Poland anomaly," it is a rare condition present at birth (congenital). For people born with Poland's Syndrome, the breastbone portion (sternal) of the pectoralis is also missing.
The severity of Poland's Syndrome differs from person to person and is often not diagnosed or reported. The incidence, therefore, is difficult to determine, but current estimates are between one in 10,000 to one in 100,000 births.
About: About Palo Verde:
Founded in 2008, Palo Verde Capital is a leading multi-strategy alternative investment manager, providing disciplined investment management in a transparent, process-driven environment to institutional and accredited investors. Fully-transparent and fully reporting, the firm is committed to creating long-term value through experienced, skill-based investment management. The investment philosophy of the firm is centered on the concept of yielding absolute returns, regardless of overall market conditions or performance.
###