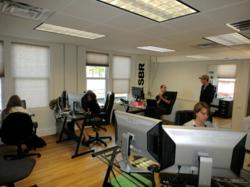 The Bellann is symbolic of things to come for rural small towns throughout Appalachia.
Oak Hill, WV (PRWEB) June 30, 2011
A Main Street building that sat vacant for 15 years continues its progress toward becoming the first privately-owned, LEED-certified building renovation.
The Bellann Building, located in Oak Hill, is a Leadership in Energy and Environmental Design (LEED) project of LightsON! West Virginia.
LightsON! West Virginia, a real estate company whose mission is to revitalize old buildings with a green emphasis throughout the state of West Virginia, is working with WELD, a locally-owned content marketing firm, to finish renovations on the bottom floor of the Bellann Building.
"It's not just about LEED-certifying the 10,000-square-foot building that was built in 1930," says Brandon Holmes, one of the managing partners of WELD. "The Bellann is symbolic of things to come for rural small towns throughout Appalachia."
Once construction is completed, the Bellann will be the first LEED-certified existing building in the state, meaning that it meets specific standards for cleaning and maintenance, as well as system upgrades and recycling programs. This project is also unique because it is the first private sector LEED green building project in the state.
The building, originally constructed more than 80 years ago, has been home to a dentist's office and, until recently, a consignment store, among many other businesses over the years.
After purchasing the building in 2006, LightsON! West Virginia and WELD completed renovations to the top floor in 2008. In order to stay on track with all LEED standards, locally owned materials were used whenever possible, including carpeting in the rear suites that is made from 100 percent recycled plastic bottles and ceiling tiles that are made from 85 percent recycled materials.
To meet LEED environmental standards, LightsON! added a white, reflective coating to the roof and replaced the building's mechanical system. The building's tenants also participate in recycling and weighing of all garbage from the building, with an eye to minimizing waste. The building's cleaning staff must use all environmentally-safe soaps and disinfectants, too.
The green philosophy of the project has attracted other tenants to the building, in addition to WELD. The Bellann is also home to representatives of the National Parks Conservation Association, an environmental mitigation and engineering firm, a local attorney, as well as a business venture that salvages precious hardwoods from local, historic farms and houses.
Throughout the process, many organizations and business in the area have graciously supported the project with donations, Holmes said.
"The energy, optimism and dedication of the people of the West Virginia are embodied in the project and must be recognized," Holmes said. "WELD and Lights On! West Virginia have had to grab, scrap and claw together the resources to make this project possible; and, without the support of folks from the New River Gorge Economic Development Authority, Natural Capital Investment Fund, Mountain Association for Community Economic Development Fund and BB&T, the vision would have died on the vine and our businesses forced to relocate. The community owes these organizations a big thank you."
###