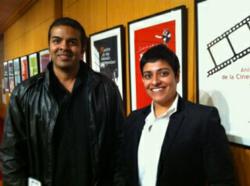 Los Angeles, CA (PRWEB) June 30, 2011
What does a contestant of VH1 Classic's Rock 'n' Roll Fantasy camp, a Bollywood music instructor out of Orange County, and an up and coming Hollywood music composer have in common? They're all lending their musical talents to an independent Bollywood themed short film by filmmaker Sabina Shamdasani.
The film, "Bollywood Invasion", is a 16 minute dance film about a geeky college student who must dance at an underground Bollywood dance competition in order to win over the girl of his dreams.
"I didn't think we'd be able to pool together such a group of diverse, musically talented artists for a short film," Shamdasani says. "We haven't even done the feature film yet."
The process began last year, when Shamdasani brought on board Venkatesh Sankaran, owner of Sur Music Academy in Orange County, CA. Sankaran had written Hindi music before, winning the 2010 ArtistAloud for his song Tujhe Dekha Aisaa Lagaa Ke. Several of his compositions are being represented by Hungama Entertainment, a top music label in India.
"Bollywood Invasion calls for Punjabi music, Hindi music, and because the movie is set in America, we want something with a cool pop sound to it," adds Shamdasani.
For that, she located Brian Blake, a Los Angeles based composer who has created music for advertising campaigns for Asics, Ford Fusion, and indie films such as I Heart Hollywood and Cold Cabin.
Blake and Sankaran are collaborating to create a theme song for the movie called 'Bounce With Me,' a track with an intense electro-pop score complimented with modern lyrics sung in Hindi and English.
Anup Sugunan, best known his appearance on season 1 of VH1 Classic's Rock 'n' Roll Fantasy camp, is providing male vocals for the track. Sugunan, who is lead guitarist in several up and coming rock bands is eager to showcase his talents as a vocalist.
For the right female vocalist, Shamdasani is working with classically trained singer Devika, who's worked with Saregama India Limited and Sony Music India in the promotion of her solo albums. Her music has appeared on compilations albums with artists such as Nusrat Fateh Ali Khan, AR Rahman, and Sonu Nigam.
"She's got an incredible voice," says Shamdasani of Devika, "Her Indian classical style of singing lends a lot of credibility to this track, and we're hoping the contrast between her and Anup will be appealing to audiences in America and India."
The short film is set to hit the festival circuit later this year. Shamdasani's goal is to garner enough attention for the short and raise funds for a feature length project either from independent producers or major studios.
For more information contact KarmaTheoryFilms(at)yahoo.com
###